Sapele Ribbon Stripe 4/4 Project Pack: 20 Board Feet
Sapele Ribbon Stripe 4/4 Project Pack: 20 Board Feet
Ratings Snapshot
Would recommend this product.
$254.79

/Pack
Volume Pricing
| | |
| --- | --- |
| 1-2 | $254.79 /Pack |
| 3+ | $229.31 /Pack (10% off) |
Tip: mix or match for your best price! Details &raquo
Mix and Match for Volume Pricing
Yes! You can mix and/or match related items to reach the volume prices indicated. Here's how it works:
Lumber: 100 board feet of any mix of woods, or of the same wood
Turning Stock: any 5 bowl blanks, turning squares, or pen blanks
Veneer: any 5 veneer sheets
Craft Packs, Project Packs: any 3 packs
Router Bits: any 5 bits
Sanding Discs: any 5 boxes of 50 discs
You'll see your savings automatically in your shopping cart
Flat Rate U.S. Shipping
$0.00
West of Mississippi River
$20.00
East of Mississippi River
Details »
What to Know about Flat Rate Shipping
In an effort to make buying lumber easy and convenient, we offer these packs with a fixed quanity of lumber. It's your choice of 10, 20 or 100 board feet, and each pack has a flat rate shipping charge if shipped to any location east of the Mississippi River. The charges only apply to the products called Craft Packs, Project Packs and PRO Packs.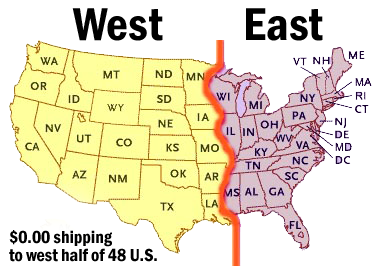 Shipping West of Mississippi River: $0.00
$0.00 for all Craft, Project and PRO packs
HI and AK excluded.
Shipping East of Mississippi River:
$10 per 10 BF Craft Pack
$20 per 20 BF Project Pack
$50 per 100 BF PRO Pack
A 20 board foot Project Pack is a great way to buy some lumber because they're simple and we stand behind them with our 100% satisfaction guarantee. A Project Pack includes a total of 20 board feet of our hand-picked lumber, and you'll get a fantastic assortment of widths (typically between 4'' and 10''), and lengths (between 4' and 8'). Purchase a Project Pack when you need enough wood to make a medium sized project like a coffee table or cabinet. As usual, all the lumber is surfaced on two sides (S2S), and kiln dried.
Thickness
13/16'' thick, surfaced smooth two sides (4/4 S2S)
Widths
4''-10'' variety with rough edges. Straight line ripping on one edge is available as well (see above).
Lengths
4'-8', and each pack contains an assortment
---
What to know about lumber sizes
What if I need specific sizes?
---
What to Know About Lumber Sizes
Lumber Sizes Are Random
Hardwood lumber is different from standardized softwood lumber (such as 1x6 and 2x4 pine). Hardwoods come in various widths and lengths, which is why it may take longer to get your order together, and why you may need to buy more footage than you realize. The stack of mahogany above shows how lumber comes in many widths, rarely uniform.
We can select lumber to meet or exceed your requirements
For example, if you ask for 10 boards 6" wide and 72" long, we probably won't be able to send you boards that are precisely 6" wide or exactly 72" long. Instead, we'll need to:
Send you enough material to yield your request, and
therefore the adjust the footage you order and bill it accordingly.
Due the nature of hardwood lumber, each board in a stack is a different size, with different grain characteristics, etc. Our primary concern is providing you with quality material that you like. We want you to be happy and therefore we want to make sure you get what you need so your project can be a successful one.
What if I need specific sizes?
You'll have to cut your own pieces to size
Hardwood lumber is sold as a bulk raw product, which means that our stacks of lumber have a big variety of sizes most often from 4" up to 12" wide, and 6' to 16' long.
Only some unusual exotic woods are narrower than 4" and under 6' long. This is clearly stated when that's the case, everything else is larger.
We always ship the longest boards possible, and rarely ship boards less than 48" long unless you request shorter. The longest we can ship by UPS is 96" (that's 8').
For custom furniture building, the various widths and lengths often meet the needs and desires of woodworkers. But we do understand that certain projects have some requirements, and we're happy to help you out.
Here's how we can help you get the sizes you need:
We can hand-select material that will yield what you need. Type your needs into the "Selection Request" field right above the Add to Cart button above when you place your order.
We can do some limited custom milling such as planing to a different thickness and straight-line ripping one edge. Please call or email to talk about your needs.
What's in a Project Pack?
Uniform thickness lumber
Planed smooth both sides
Selection of widths and lengths
4-7 boards to equal 20 board feet
Packaged for maximum protection
Simple flat rate shipping!
Lumber Thickness Compared
The thickness of hardwood lumber is expressed as a fraction in quarters of an inch. 4/4 is the most common, and roughly means 1" thick. Here are the various lumber thicknesses compared to one another.
Our blog explains more. Click here.
Sapele

Is an exotic wood from Parts of Africa

What's in the Pack?

Project Packs contain 20 board feet (or slightly more), which tends to be approximately 4 to 7 boards depending on the size
We Have More Sapele Products
Buy With Confidence
The Woodworkers Source Difference
Products On Sale
Sapele Species Info
(Entandrophragma cylindricum)
Sapele Wood Characteristics
Gorgeous mahogany look-alike with a slightly finer texture than Honduras Mahogany, and a typically interlocked grain. Sapele is also a lustrous wood that works fairly well in all operations - planing, sawing, routing, sanding, etc.
Color Range
Dark red brown, very similar to mahogany
Other Names
Aboudikroe, Penkwa, Assi, Sapele, Assie sapelli, Sapele mahogany, Lifari, Sapeli
Some Typical Uses
Boat building, Decorative veneer, flooring, furniture, joinery, Canoes, Chairs, Chests, Concealed parts (Furniture), Desks, Dining-room furniture, Excelsior, Figured veneer, kitchen cabinets, musical instruments, Tables, Veneer
What's the Tree Like?
May reach a height of 150-200 feet; bole straight and cylindrical, clear to 100 feet; trunk diameters to 6' over broad, low buttresses, sometimes not buttressed. The Sapele tree grows in Africa; Ivory Coast and Nigeria
Weight

3.50

lbs /Bd. Ft.

-2.23% lighter than red oak(3.58 /bd. ft.)

Hardness

1510

Janka Rating (?)

17.05% harder than red oak (1290 lbf)

Density

0.62

Specific Gravity (?)

-3.13% less dense than red oak(.64)
Woodworking with Sapele:
General
Workability
Nice
Difficult
---
Wood
Texture
Fine
Coarse
---
Ease of
Finishing
Easy
Difficult
---
Customer Ratings & Reviews
Ratings Snapshot
Would recommend this product.
Would recommend this product.
Minimal Striping
A Chang
Location: Portland, OR US
Date: October 18, 2015
I bought one 20BF pack and the boards are all true. Mostly 6' lengths with 5" widths, though there were two 9" wide boards. The only issue is that the ribbon stripe figure in very coarse, and not particularly impressive in straightness with respect to the length of the boards. Very disappointing yet also very usable. I'm still going to use it, and I'm sure I won't have any complaints one I start cutting. It's just not quite what I thought I was paying for. If you buy it for the forgiveness of the wood, you probably won't be let down, just don't expect to see as tight striping as shown in the photos.
Sapele Order
NC
Location: Greeley, CO USA
Date: February 5, 2014
I ordered a total of 30 BF. 1-20BF Bundle and 1-10BF Bundle. Both came wrapped neatly and protected the wood. Delivery was right on time. The quality of the wood was terrific. I had one board with a small crack from the end running about 6 inches. I was able to work around this with minimal waste of wood. I am happy with the process, and in fact need to order some more to finish my project. Calculation error on my part. I have recommended this website to several of my friends.
Exceptional grain and color.
Bob
Location: Lewistown, Montana Us
Date: February 4, 2014
Very nice, some wide, very good grain and workability.
Great wood
Jlb
Location: Lancaster, Pa USA
Date: December 30, 2012
The only thing was two boards had a split down the middle, so I will have to use it for a small projects. Other than that the wood is great.
beautiful wood, high uality selection
Joe Nachman
Location: Mickleton, NJ USA
Date: December 5, 2012
The wood is absolutely beautiful, and every board is flat, with no twist, warp, or cupping and knot-free, so all the wood is usable with no waste. I'm very much looking fwd to finding the perfect project for it.
Gian
GC
Location: Coarsegold, CA USA
Date: November 15, 2012
Better than I expected
Sapele
Gary T.
Location: Hackettstown, NJ 7840
Date: February 29, 2012
Excellent, quality product. Top of the line service. Will order my needs from Woodworker's Service every time.
Recent Sapele Order
John
Location: Stafford, VA
Date: April 13, 2010
I recently ordered 3 project packs of Sapele for some speaker cabinets I am building. This was my first time ordering wood online. Overall I am very pleased with my purchase. The wood is as described. I received a total of 15 boards ranging from 5 1/2 to 11 inches wide, with a uniform length of 86 inches. My project calls for 42 inch panels, so I should have very little waste. The boards are very uniform in color, with only one being a shade lighter. Boards were very flat and well machined with only 2 of the 15 having a very slight bow. As a plus I measured my order and actually received 65 board feet as opposed to the 60 I ordered. Thank you Jason for your help.
WOW, Beautiful Wood
Carlos Dominguez
Location: Henderson, NV US
Date: July 19, 2009
Not only was the wood beautiful but the service, quality and promptness (I ordered on Friday and got it Wednesday) of delivery was excellent. You guys have it together and I look forward to many more purchases. I live in Las Vegas so I plan to come and visit the store sometime soon. Keep up the good work and all the best.
Supreme Sapele
Rick M
Location: Apple Valley, MN US
Date: November 26, 2008
Wood arrived very timely and in excellent condition! It is really beautiful wood and will be great for my project!! I am one happy customer! Thank you to all the Woodworkers Source handlers and UPS!!
GORGEOUS WOOD
VINCENT JESUELE
Location: WEST LONG BRANCH, NJ US
Date: June 24, 2008
BEAUTIFUL WOOD, EASY TO WORK THOUGH THE EDGES SPLINTER IF CARE IS NOT TAKEN. AFTER SANDING, THE WOOD HAS A LUSTRE TO IT. TAKES A BEAUTIFUL FINISH. I USED GENERAL FINISHES OIL AND URETHANE (SATIN) WHICH I WIPED ON AND WHICH ACCENTUATED THE GRAIN PATTERN. WHEN FINISHED LOOKS VERY SIMILAR TO MERBAU.
We're Here to Help You Do Your Best Woodworking
Enjoy Our Weekly Newsletter
Subscribe now and get our woodworking tips delivered weekly, plus get a $10 credit:
Woodworking Tips & Advice Blog
Project Plans from WOOD Magazine
Behind The Scenes w/ Instagram
Gallery of Customer Projects
Why Your Lumber Quantity May Need To Change
In short, you may receive slightly more wood than you order and be charged for it. But don't worry, this is usually no more than a fraction of a board foot, but we do need to charge you for exactly what you receive. Why? Because the amount of wood you buy is largely dependent on the sizes available in the lumber pile. We will always do our best to ship you what you order, though.
Here's an Example
If you order 2 board feet of a wood, the board we may need to ship you could be something like 4/4x6-1/2"x49". That's actually 2.21 board feet, and that's what you will be charged for.
Here's What to Know
We will aim to come as close as possible to the board footage you order
We will ask for your permission if the overage is 10% more than the amount you originally ordered
If you order, as an example, 10 board feet of a wood, you won't get 12 or 15 board feet. It may be more like 10.2 or 10.8
Due the nature of hardwood lumber, each board in a stack is a different size, with different grain characteristics
Our primary concern is providing you with quality material that you like
We want to make sure you get what you need so your project can be a successful one
Shipping Costs also will be adjusted to reflect the actual quantity we're shipping you as well.
We we want you to be happy with your order and our service! So if you still have concerns about what you need and what we can do for you, please call to discuss. Due to the limitations of website software, it's best to handle this type of order person-to-person.
Lumber comes in various widths (usually 4" to 12") and lengths (4' to 8')
Lumber comes in various widths and lengths, which is why sizes and final board footage must fluctuate, and this is why you may need to buy more footage than you realize. The stack of mahogany above shows how lumber comes in many widths, rarely uniform.
Doing Business with Us Is Better
Take how you feel about the usual lumberyard and throw it out the window. Doing business with Woodworkers Source is better.
100% Satisfaction Guaranteed
Simply stated, we really want you to be happy with what you buy from us.
That's why we stand behind our lumber, wood, veneer, and turning stock with a 100% satisfaction guarantee. If you're unsatisfied we want to know so we can fix it.
We pay the return shipping if you aren't happy
Yes, that's an awfully expensive proposition -- that's exactly why we work hard to get it right the first time by asking you questions about your projects, being careful with hand selection, and being mindful that you're putting your trust in us to pick out great looking wood that you'll be proud of.
Hand Selected Lumber
There's Only One Way to Do This, and That's By Hand
Your order gets attention by a real person who selects your wood, one piece at a time, and whose goal is to make you happy that you chose to do business with us.
That's the way we've done it since 1998 when we first started shipping hardwood lumber to woodworkers all over the world. We believe that hand selection is our magic ingredient. Because of that, we'll also stand behind your order with a 100% satisfaction guarantee. If you don't like the wood you receive from us, we'll replace it.
See It Before You Buy
We can take photos of any of our lumber and send them to you by email, text, or any method you prefer. We'd like to empower you to make decisions and we can make informed suggestions based on your project and your tastes. Call or email us.
The Woodworkers Source Difference
Friendly Help and Woodworking Advice
The members of our crew are woodworking hobbyists too, so they get to know many of our woods by working with them. When you call or email, you'll talk to a friendly fellow woodworker who understands your concerns and, more importantly, is willing to help.
We Enjoy the Craft of Woodworking
That's why we provide tips and advice through as many channels as possible:
No One Knows it All
Woodworking is a very broad topic, and there's no one who knows it all. But fortunately we have a staff of people who each have knowledge of different specialties. So if the person you're speaking with doesn't know the answer, they'll find someone who does.
What Is a Straight Line Rip?
Make It Easier to Cut to Size on Your Table Saw
All of our lumber is stocked surfaced on two sides - which means the face and back of the boards are good and smooth and the edges are rough sawn. A rough edge is rarely suitable to be guided against a table saw fence. A straight line rip puts a true edge on the board so you can run it against a table saw fence and cut the width you need. A straight line rip is also performed after measuring the board. The rip will remove 1/16" to 1/8" from the width of the board.
So you might be wondering why
Hardwood lumber is primarily a raw product. It's been sawn from a log with big machinery that leaves rough surfaces. We then have the material surfaced (planed) on the two faces (after it's been kiln dried) and we stock it this way - smooth faces, rough edges. There are many benefits to stocking lumber like this, the biggest reason is because we find it to be a decent balance between cost and usefulness to the woodworker. Every aspect of machining adds cost to the wood, so we minimize that as much as possible by only having the lumber planed. It allows you to have a workable and smooth surface and also see the grain and color of the boards. Though every board will have to be jointed or straight-line-ripped eventurally, there's no distinctive advantage to stocking it with the edges already straightened. Plus it would add cost. Where many experienced woodworkers might prefer fully rough lumber, we find that many new and intermediate woodworkers do not have a planer, the critical tool for surfacing lumber. And we're here to serve woodworkers of all skill and experience levels as best we can.
Selection Requests
Lumber Selection Specs Are $1.00 per BF
Use this selection service to tell what you need to yield. We will check our stock to see if we can satisfy the requirement to get you material that will allow you to cut your parts to your sizes. If we can meet your requirement, we will do so. If not, we will contact you to discuss alternatives.
NOTE: The $1.00 is a selection fee for the labor of hand-sorting boards to meet your minimum requirements; it is not a fee that covers cutting boards or providing boards of an exact size. We'll provide material that will yield what you need, you'll do your own final cutting to size. If you have questions, please call 800-423-2450.
4 Things To Know About Size Requests
You may be charged for more wood than you order: We will select material that can yield your specified dimension(s). That means we may have to ship you board(s) that are wider or longer than you request, and therefore they may compute to more footage than you calculated. You will be billed for the actual footage that we ship (More At Bottom). Yes, we always contact you first to discuss and make sure you get what you need and are not surprised by additional charges. It might take longer to get your wood.
Selecting lumber to your specifications may take longer than our standard 3 day turn around: Yes, we always contact you to let you know.
Your wood will need to be cut to final size by you: Please be aware that your specifications ought to reflect what you need to yield out of a board, or what your minimum size is. We will not cut anything to exact dimensions based on sizes you type into the selection box. If you need wood cut to an exact size, please call for a quote 800-423-2450
We we want you to be happy with your order and our service: So if you still have concerns about what you need and what we can do for you, please call to discuss. If you do need pieces cut to specific sizes, please call or email for a quote to do so. We'll be happy to help. Due to the limitations of website software, it's best to handle this type of order person-to-person.
Lumber On Sale! Don't Miss It: