4/4 Hard White Maple - 20 Board Foot Pack
Strong & durable with nearpure white color
Reg:
$189.00
Sale: $152.00

/ Pack
See More
Shop All Maple Options
1/2 Quarter Sawn White Oak - 10 Square Foot Pack
Gorgeous creamy-tan color with dramatic flecks
Reg:
$135.00
Sale: $99.00

/ Pack
See More
Shop All White Oak Options
4/4 American Cherry - 20 Board Foot Pack
Easy to work, with a rich rusty red color
Reg:
$193.00
Sale: $157.00

/ Pack
See More
Shop All Cherry Options
Save 25-40% On The Most Beautiul Exotic Woods
Choose from an immense selection of exotic hardwoods such as Purple Heart, Padauk or Wenge to add flair to your next build.
All Turning Blanks On Sale Now
Check out our huge selection of colorful 12", 18" and 30" blanks that are ready to turn and 20% Off.
Most Popular Woods Now
Here's what woodworkers are getting excited about - Order Today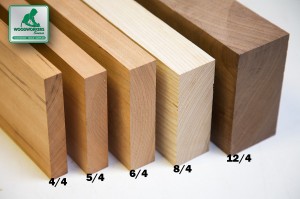 Understanding hardwood lumber starts right here with these wacky fractions.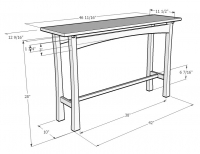 Board feet isn't your everyday kind of math, but these three simple steps make it easy to figure out your project.
If you're expecting perfect clear lumber 100% of the time, you're in for a surprise. Here's a summary of the hardwood lumber grades and what to expect from them.
Here's a handy (and free) Excel worksheet that helps you estimate the lumber needs for your project.
Are woods poisonous? Hazardous to use in cutting boards or baby cribs? Find out here.
Wood swells and shrinks constantly. Here's what you need to know to protect your project.
Woodworking Tips & Advice Blog
Gallery of Customer Projects