Basics of Shipping Lumber
Shipping charges are determined by the package sizes, weight, and destination of an order.
We don't mark up the costs from U.S.P.S., FedEx or truck freight carriers.
To find out what it will cost to ship something to you, add items to your cart and click "Estimate Shipping"
Several of our products include the shipping costs within the 48 U.S., or have a simple flat rate. Shop Free Shipping Packs
When Can I Expect Delivery of My Order?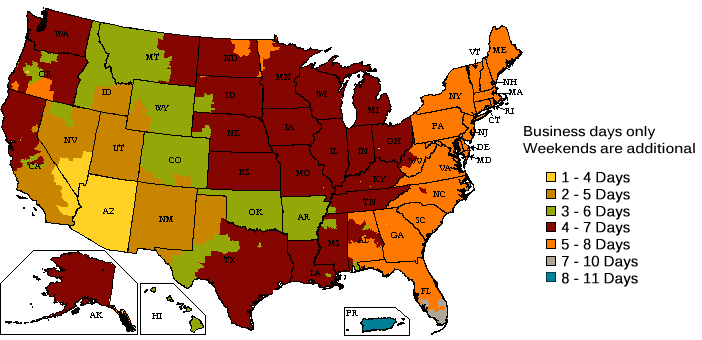 Here's the deal.
Picking out lumber requires more care & attention than other kinds of products - so it takes time.
We aim to get your order out the door within 72 hours
Your wood is selected by hand, one board at a time by a professional
We want you to be 100% happy with the wood you receive
Tips For Getting Your Lowest Shipping Rate
1. Check Your Order's Weight
There are some sweet spots that provide better rates
You'll find the weight of your order on the basket detail screen. We show you that to help you plan.
70 lbs is the "magic" number:
We split lumber orders into more than one package when they're over 70 lbs.
A package that's as close to 70 lbs without going over gets the best rate-per-pound.
An order that goes over 70 lbs gets a better rate-per-pound as it gets closer to 150+ lbs than it does 71 lbs.
The highest (worst) shipping rates occur 1 to 5 lbs, and 71 to 79 lbs
2. More Wood = Better Shipping Rate
Most of the time...
Since wood is dense, heavy, and awkward, shipping a quantity of 1 or 2 (board feet, pieces, etc.) usually carries the highest shipping rate-per-pound. It's more economical to buy a medium quantity than it is to buy a small quantity of 1 or 2.
To see for yourself, add a quantity of 1 to your cart and check the shipping estimate. Then, change your quantity to 4 or 5 and run the estimate again. You'll see the shipping charges only slightly change with a higher quantity of wood.
The 70 lbs "magic" number mentioned before plays a role, too. If you go over 70 lbs, you'll get a better rate at (for example) 130 lbs than you will at 72 lbs.
Canada shipments: most lumber and wood packages are shipped by FedEx. Canadian customs and broker fees may apply at time of delivery. These costs are not included here, and are not under the control of Woodworkers Source nor FedEx. Costs are charged by Canadian Customs and/or the broker.