Whiteside 3022 Template Router Bit: w/Ball Bearing 3/4 diam. 1-1/2" long 1/2" shank 2-flute
Whiteside 3022 Template Router Bit: w/Ball Bearing 3/4 diam. 1-1/2" long 1/2" shank 2-flute
$46.99

ea.
| | |
| --- | --- |
| 1-4 | $46.99 |
| 5+ | $35.24 ea. (25% off) |
Tip: mix or match for your best price! Details
Mix and Match for Volume Pricing
Yes! You can mix and/or match related items to reach the volume prices indicated. Here's how it works:
Lumber: 100 board feet of any mix of woods, or of the same wood
Turning Stock: any 5 bowl blanks, turning squares, or pen blanks
Veneer: any 5 veneer sheets
Craft Packs, Project Packs: any 3 packs
Router Bits: any 5 bits
Sanding Discs: any 5 boxes of 50 discs
You'll see your savings automatically in your shopping cart
What Is In-Store Price?
Baltic Birch Is Sold in 5'x5' Sheets
5'x5' can't be shipped as-is, but they can be specially cut for you so it can be packaged and shipped.
Or you can pick up whole 5'x5' sheets at our store.
Cut-to-Ship Price
A small labor charge for cutting the sheets is included in this price.
Want different sizes than what' offered online? Contact us for a custom quote to cut what you need.
Whole Sheet 5'x5' Price
If you can haul 5'x5' sheets, your price-per-sheet is less. The in-store price doesn't include a cutting fee.
However, we would be happy to custom cut your sheets if you do need your sheets cut. A milling fee would apply.
We're Here to Help You Do Your Best Woodworking
You've Gotta Get Our E-Newsletter
Subscribe now and get our woodworking tips delivered weekly, plus get a $10 credit:
Project Plans from WOOD Magazine
Woodworking Tips & Advice Blog
Behind The Scenes w/ Instagram
Gallery of Customer Projects
Why Your Lumber Quantity May Need To Change
In short, you may receive slightly more wood than you order and be charged for it. But don't worry, this is usually no more than a fraction of a board foot, but we do need to charge you for exactly what you receive. Why? Because the amount of wood you buy is largely dependent on the sizes available in the lumber pile. We will always do our best to ship you what you order, though.
Here's an Example
If you order 2 board feet of a wood, the board we may need to ship you could be something like 4/4x6-1/2"x49". That's actually 2.21 board feet, and that's what you will be charged for.
Here's What to Know
We will aim to come as close as possible to the board footage you order
We will ask for your permission if the overage is 10% more than the amount you originally ordered
If you order, as an example, 10 board feet of a wood, you won't get 12 or 15 board feet. It may be more like 10.2 or 10.8
Due the nature of hardwood lumber, each board in a stack is a different size, with different grain characteristics
Our primary concern is providing you with quality material that you like
We want to make sure you get what you need so your project can be a successful one
Shipping Costs also will be adjusted to reflect the actual quantity we're shipping you as well.
We want you to be happy with your order and our service! So if you still have concerns about what you need and what we can do for you, please call to discuss. Due to the limitations of website software, it's best to handle this type of order person-to-person.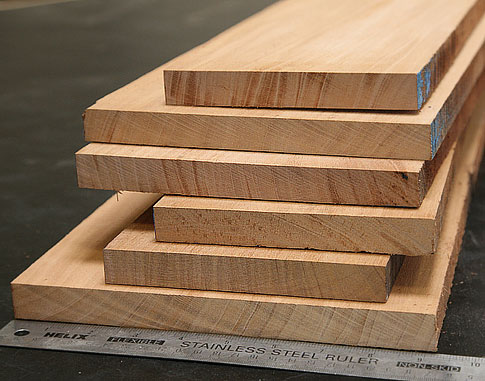 Lumber comes in various widths (usually 4" to 12") and lengths (4' to 8')
Lumber comes in various widths and lengths, which is why sizes and final board footage must fluctuate, and this is why you may need to buy more footage than you realize. The stack of mahogany above shows how lumber comes in many widths, rarely uniform.
Doing Business with Us Is Better
Take how you feel about the usual lumberyard and throw it out the window. Doing business with Woodworkers Source is better.
100% Satisfaction Guaranteed
Simply stated, we really want you to be happy with what you buy from us.
That's why we stand behind our lumber, wood, veneer, and turning stock with a 100% satisfaction guarantee. If you're unsatisfied we want to know so we can fix it.
We pay the return shipping if you aren't happy
Yes, that's an awfully expensive proposition -- that's exactly why we work hard to get it right the first time by asking you questions about your projects, being careful with hand selection, and being mindful that you're putting your trust in us to pick out great looking wood that you'll be proud of.
Hand Selected Lumber
There's Only One Way to Do This, and That's By Hand
Your order gets attention by a real person who selects your wood, one piece at a time, and whose goal is to make you happy that you chose to do business with us.
That's the way we've done it since 1998 when we first started shipping hardwood lumber to woodworkers all over the world. We believe that hand selection is our magic ingredient. Because of that, we'll also stand behind your order with a 100% satisfaction guarantee. If you don't like the wood you receive from us, we'll replace it.
See It Before You Buy
We can take photos of any of our lumber and send them to you by email, text, or any method you prefer. We'd like to empower you to make decisions and we can make informed suggestions based on your project and your tastes. Call or email us.
The Woodworkers Source Difference
Friendly Help and Woodworking Advice
The members of our crew are woodworking hobbyists too, so they get to know many of our woods by working with them. When you call or email, you'll talk to a friendly fellow woodworker who understands your concerns and, more importantly, is willing to help.
We Enjoy the Craft of Woodworking
That's why we provide tips and advice through as many channels as possible:
No One Knows it All
Woodworking is a very broad topic, and there's no one who knows it all. But fortunately we have a staff of people who each have knowledge of different specialties. So if the person you're speaking with doesn't know the answer, they'll find someone who does.
What to Know About Lumber Sizes
Lumber Sizes Are Random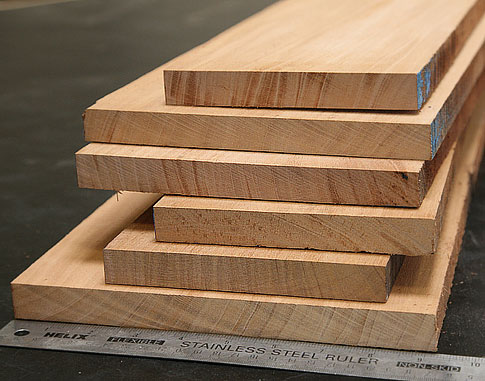 Hardwood lumber is different from standardized softwood lumber (such as 1x6 and 2x4 pine). Hardwoods come in various widths and lengths, which is why it may take longer to get your order together, and why you may need to buy more footage than you realize. The stack of mahogany above shows how lumber comes in many widths, rarely uniform.
We can select lumber to meet or exceed your requirements
For example, if you ask for 10 boards 6" wide and 72" long, we probably won't be able to send you boards that are precisely 6" wide or exactly 72" long. Instead, we'll need to:
Send you enough material to yield your request, and
therefore the adjust the footage you order and bill it accordingly.
Due the nature of hardwood lumber, each board in a stack is a different size, with different grain characteristics, etc. Our primary concern is providing you with quality material that you like. We want you to be happy and therefore we want to make sure you get what you need so your project can be a successful one.
What if I Need Specific Sizes?
In Woodworking, You Cut and Join Your Own Pieces to Final Size
If you've got woodworking tools, you don't need to spend the extra money paying for wood that's already cut to size. Instead, buy your lumber in random widths and lengths to give you maximum flexibility to arrange grain and work around defects
Hardwood lumber is usually sold as a bulk raw product in random widths and lengths. That means that our stacks of lumber have a big variety of sizes most often from 4" up to 12" wide, and 6' to 16' long.
We do understand that your project might have some requirements, and we're happy to help you out.
Here's How We Can Help You With Sizes:
Custom Hand Selection: This is a selection for a minimum size, not an exact size. For example, if you want a minimum width of 6", we will hand-select lumber that will be bigger than 6". See the "Minimum Size Request" box on the order form.
Custom Cutting: We can do some custom milling such as planing to a different thickness and ripping to width. This is quoted priced per job, so please call or email to for a quote.
What Is a Straight Line Rip?
Make It Easier to Cut to Size on Your Table Saw
All of our lumber is stocked surfaced on two sides - which means the face and back of the boards are good and smooth and the edges are rough sawn. A rough edge is rarely suitable to be guided against a table saw fence. A straight line rip puts a true edge on the board so you can run it against a table saw fence and cut the width you need. A straight line rip is also performed after measuring the board. The rip will remove 1/16" to 1/8" from the width of the board.
So you might be wondering why
Hardwood lumber is primarily a raw product. It's been sawn from a log with big machinery that leaves rough surfaces. We then have the material surfaced (planed) on the two faces (after it's been kiln dried) and we stock it this way - smooth faces, rough edges. There are many benefits to stocking lumber like this, the biggest reason is because we find it to be a decent balance between cost and usefulness to the woodworker. Every aspect of machining adds cost to the wood, so we minimize that as much as possible by only having the lumber planed. It allows you to have a workable and smooth surface and also see the grain and color of the boards. Though every board will have to be jointed or straight-line-ripped eventurally, there's no distinctive advantage to stocking it with the edges already straightened. Plus it would add cost. Where many experienced woodworkers might prefer fully rough lumber, we find that many new and intermediate woodworkers do not have a planer, the critical tool for surfacing lumber. And we're here to serve woodworkers of all skill and experience levels as best we can.
Minimum Requests are $1.00 /bd. ft.
4 Important Things To Know About Size Requests
1. You will recieve wood that varies in size
We will pull wood to meet or exceed the dimensions you need. If you need wood to be an exact size, no more and no less, please call for a quote for custom cutting.
2. You may be charged for more wood than you order
We will select material that can yield your specified dimension(s). That means we will to ship you board(s) that are wider or longer than you request, and therefore they may compute to more footage than you calculated. You will be billed for the actual footage that we ship. We always contact you first to discuss and make sure you get what you need and are not surprised by additional charges.
3. It might take longer
Please be patient. Selecting wood takes time to do it right. Looking for material to meet your size demands will add to the amount of time it takes us to pull your order together. But we promise to do it right, and to do it well.
4. Do You Want To Order Exact Sizes?
No problem. Please call or email us to get a custom cutting quote. We'll be happy to help. Due to the limitations of website software, we can't provide a price for custom cut wood without discussing with you first.
800-423-2450
Unique Hand Selected Boards
Grab an extra special board with Free Shipping: