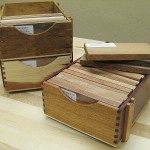 Did you know that there are 10,000 species of wood in the world that are harvested for timber?
What's even more interesting is that there's an entire international group of wood fanatics who collect, trade, sell, and share sample specimens from these 10,000 different species. They're collectively known as The International Wood Collectors Society (www.woodcollectors.org).
In order to have some consistency to the specimens, they determined that a wood sample has to measure 1/2″ thick, 3″ wide, and 6″ long.
Fair enough, I say.
When you happen to get a significant collection going, even perhaps just 10 samples, what are you going to do with them?  Well you could do what we've done at the office: dedicate some wall space.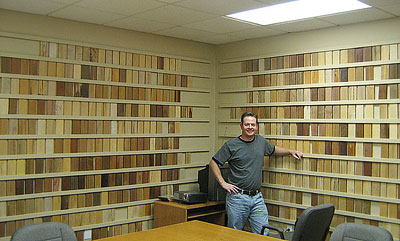 Or let's get more civilized.  Try your hand at these stacking wood sample display boxes.  We had Betsi Packwood design and build these examples, and she took the liberty of using different woods in each box.  Pretty nice, don't you think?
Click here for a plan (PDF, 261 KB), and browse these pictures of the wood sample display boxes: