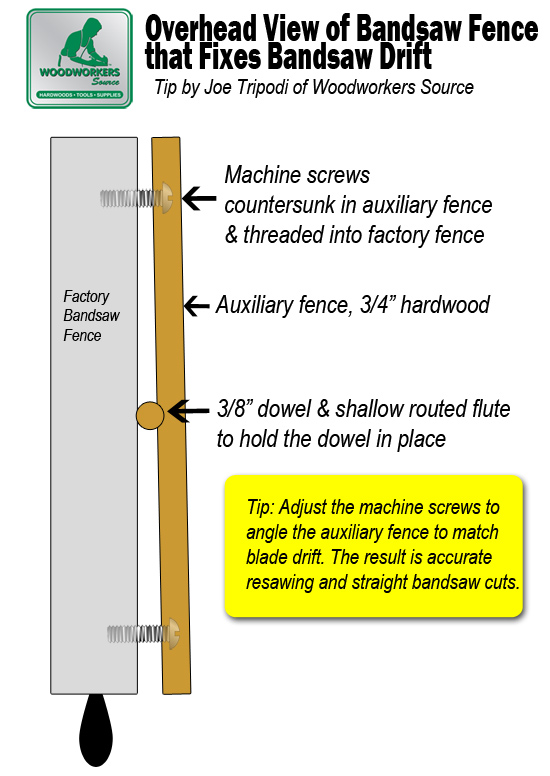 Believe it or not, it's the nature of a bandsaw to drift either left or right of being perfectly parallel with the bandsaw fence.  It doesn't have to do with the quality of a bandsaw. But it's not necessarily the quality of the blade, either: if you swap the bandsaw blade with a new quality blade, the only thing that changes is the angle at which the blade drifts. Rest assured, it still won't cut straight with the fence. Being a happy bandsaw owner (and user) has a lot to do with your approach to coping with the fact that a bandsaw simply will not cut straight, or, in the sage words of veteran woodworkers, "adjusting for drift."
The trick is in adjusting the fence, not the blade.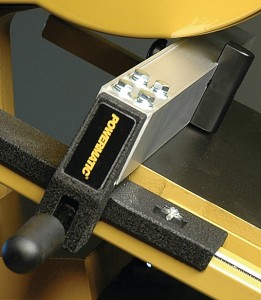 While adjusting for drift is a process you'll have to do every time you change the blade, it's a very quick and painless exercise as long as your fence has some adjustment to it. And it may not be obvious. Even the top performing 14″ bandsaw on the market, Powermatic's 14 Bandsaw 1791216K, comes with a no-frills fence with 4 bolts on top rather than easy and obvious thumbscrews or knobs that say, "Adjust me here!"
The tried-and-true method to adjusting for drift goes like this:
Take a board about 20″ long and mark a straight line along the length, parallel with (and about an inch from) the edge of the board.
Turn on the bandsaw and begin to cut that board, following the line as perfect as you can (note: freehand, not with the fence.
Stop the cut about halfway through the board
There's your angle. Using a pencil, trace the edge of the board on the table top
Adjust your fence to match the line you drew on the bandsaw table. Now the fence is aligned to cut straight with that blade set up
Our demonstrator, Joe, came up with this auxiliary bandsaw fence that uses his factory bandsaw fence that didn't have any adjustment to it.  Making the bandsaw cut nice and straight with this fence is a snap. The only tool required for adjusting is a screw driver.
Materials Required:
1 x 4 hardwood suitable for new fence.  Length slightly longer than bandsaw table width.
Round Head Machine Screws –  2pcs –    ¼" x 20 x 1 ½"
Flat Washers –  2 pcs  –    ¼" flat washers
Dowel –  3/8"  approximately 4" long
Making the Fence:
Cut 1 X 4 material slightly longer than bandsaw table width.
With router cut a shallow channel across wooden fence approximately aligned with the bandsaw blade.  Use ½" core box bit
Use 7/8" forstner bit to countersink screws in face of wooden fence
Drill wooden fence with 9/32 bit for screws
Mark holes on factory fence
Drill and tap factory fence to accept 1/4 x 20 machine screws  – drill with 7/32" bit and tap with ¼ x 20 tap.
Assemble with ¼  X 20 X 1 ½" screws through fence with dowel in the groove.  Note:  dowel could be glued in place, but I chose to keep it loose in case I want to use a smaller or larger dowel in some situations.