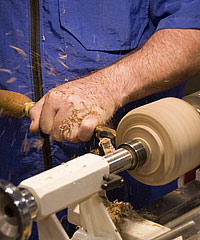 Few woodworking activities elicit sheer youthful thrill and goofy smiles as much as woodturning does.
What competes with chucking up a nice block of wood on a lathe seated on 50-pound cast-iron legs, flipping the switch and pushing that mammoth toothpick you call a "roughing gouge" into the spinning blank? Anything?
Very little, once you feel the wet chips soar into the air and float down to cover your arms, torso, and head.  Maybe peeling big, long wood curls with a hand plane comes in at a distant second.  Depends on your tastes.
Anyway, it's this thrill of woodturning that brought out some 1,100 folks to the American Association of Woodturners Symposium from June 26 through June 28. The 23rd Annual National AAW Symposium took place in Albuqueque, New Mexico – and Woodworkers Source took pleasure in supplying all the turning blanks for the demonstrations by Powermatic.
We piled up all manner of blanks, from cherry and walnut and maple to some other lesser-known and yet beautifully  bizarre woods from all over the world and sent them off to our friends at Powermatic.  Powermatic's turners proved their mettle on Powermatic 3520-B wood lathes throughout the show.  But we tossed in just one piece for an extra special challenge for he-who-dared: an incredible 2″x24″x24″ figured Bubinga platter blank that should be suitable for serving 100-or-so pounds of hors d'oeuvres to an army of hungry woodturners when it's all finished.
Renowned turner Nick Cook (www.nickcookwoodturner.com) arose to the challenge with a commanding grin.  I suspect when he's finished we'll throw a party or something (naturally) and Bob Jenkins, Western U.S. Sales Manager for WMH Tool Group, will get to place the giant platter on display in his office.
I'm really hoping they send us a picture of the final and finished piece.
So far all we have is evidence that they cut it round and stood around socializing all weekend . . .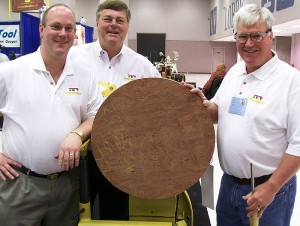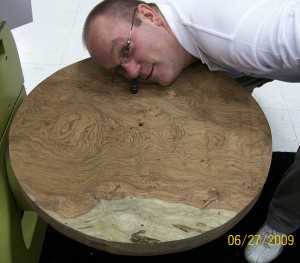 Want to turn your own giant figured bubinga platter?