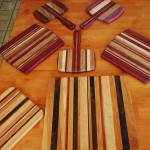 If it's not obvious, making cutting boards is easy; all you need is a table saw and a router – and the router isn't totally necessary either. 
While you're going to find a wide array of cutting board styles, they are all based on butcher block construction: strips of wood turned on edge so that the rings of annual growth are perpendicular to the top and bottom.  Or as close to perpendicular as possible.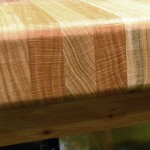 For instance, here's a red oak butcher block using 3/4″ thick material that's ripped into equal 1-3/4″ strips.  They're turned on edge and glued face-to-face, making a block that's 1-3/4″ thick and the most stable grain is now gracing the business side of the cutting board.
After this, it's  all a matter of variation.  Either by including different woods and colors, adding some shape to the design, including a handle, routing a trough around the edge, or tossing a curve ball by making the end grain face up.  Take a look below.
Styles of Hardwood Cutting Boards
Woods to Use . . .or not use
The best woods to use share similar qualities: they're hard, dense, and they're close grained.  Hard maple is the shining icon here – it makes a good, durable cutting surface that's also easy to clean.  Other woods like ash, oak, and hickory will be fine as well, though these have a more porous structure.  It's possible that the pores could become a nice little home for bacteria, so you'd need to be faithful about cleaning after use.
Moving into exotics, you get to bring a lot life to your cutting boards. Woods like purple heart, bubinga, satinwood, guatambu, jatoba, canarywood, curupay, bloodwood, afrormosia, shedua, wenge, coyote, ipe, goncalo alves, and many more all have vivid color and rock solid properties for long lasting cutting boards.
How to Finish and Care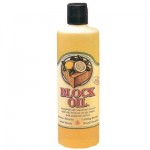 For a cutting board to last a number of years, especially with colorful tropical woods,  a simple coating with mineral oil does the trick.  Every few months, depending on the usage, you'll need to sand out the knife markings and re-apply the oil.
You can also purchase "butcher block oil" virtually anywhere.
Try this: Cutting board hardwood package
"Build a Cutting Board" Pack with Hard Maple & Curupay
Shipping Included
$75.99 – Click for details