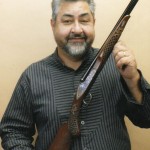 Master gun stock carver, teacher, and author Jose Valencia published Carving Gunstocks Power Techniques in which he shows readers how to create stunning and unique carvings on rifle and shotgun stocks.  And he's bringing his talent and knowledge to Woodworkers Source this week on Friday and Saturday (October 16 and 17).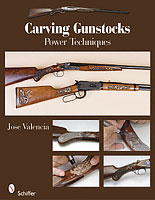 You can see Jose only at our Tempe store at 645 W. Elliot Road, Tempe, Arizona 85284 (click for a map) starting at 10:00 am on Friday and Saturday.  He'll be showing some techniques, displaying some of his incredible carved gunstocks and signing his book.
Come on down, say hi, and see what Jose can do.
Visit Jose's website at www.josevalenciastudio.com