It was 1937 in India when George Nakashima built his first wood furniture.  He'd been trained in architecture and worked under an American architect Antonin Raymond for several years.
Nakashima moved to Seattle in 1940 and taught woodworking for a short period until he was sent to Camp Minidoka, a World War II Japanese interment camp in Idaho, in the wake of the bombing at Pearl Harbor.  At Minidoka, though, Nakashima met a man who had been trained in Japanese woodworking hand tools and joinery techniques – under him, Nakashima studied and mastered the craft and techniques.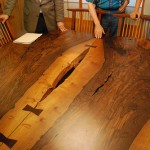 What's most notable about George Nakashima is his signature design work that were often large slab tables with natural edges and joined by the splendid part you might have admired before: butterfly joint.
For just a short time through March 17, Design Within Reach is showing a collection of Nakashima's woodwork in Scottsdale, Arizona.  If you're in the area, make the time to go see this display.
http://www.dwr.com/category/find+a+studio/scottsdale.do
Design Within Reach
4821 N Scottsdale Road, Suite 101
Scottsdale, AZ 85251
Phone: 480.970.8800
Some of the Arizona Association of Fine Woodworkers members also have their work displayed at the same time.  These pictures came from Joe Tripodi: