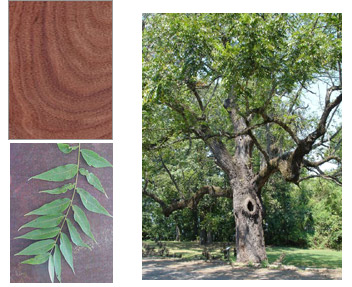 A customer once told me "If it is worth building it should be made of Walnut."
He said so out of genuine infatuation: the dark heartwood is gorgeous.
Woodworkers generally love the stable lumber; it saws, planes, routes, and finishes exceedingly well. Walnut is considered the superior wood for gun stocks because of its stability, light weight and ability to absorb recoil – the long-sought-after figure and desirable grain patterns are just the cherry on top.
The wood is excellent for carving and turning. If that is not enough Walnut produces a greater variety of figured grain than any other species. Crotch, swirl, stripe, ribbon, mottle, curl, burl are all available.
In addition to all that Walnut provides woodworkers, the nuts are used to produce all kinds of food products-candies, cookies and my favorite ice cream. The bark and shells are used to make dyes.
With all these positive attributes Walnut still accounts for less than 1% of the hardwood production in the US. The wood is expensive; generally the highest priced domestic hardwood. The logs are short; special grading rules allow for 6' being included in FAS, the top grade. The sapwood is nearly white and can be a problem. Most Walnut is steamed to even the color but to improve yield more sapwood is included in cuttings than in "days of yore."
Still, though, walnut continues to be a favored wood by woodworkers of all skill sets and levels.  We've had several nice additions in our Project Gallery posted by our customers.  Like this handsome cabinet: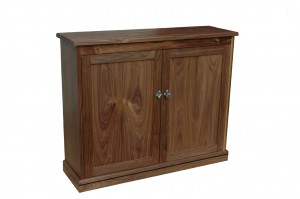 Other Walnut species are also important to woodworkers:
European Walnut, Juglans regia

This wood will usually carry the name of the country of origin- English Walnut, French Walnut, etc.

Generally there will be more color variation than in North American Walnut. The color, texure and grain differences from country to country result from varied climates and soil conditions.

Today, this wood is rather difficult to come by.
South American Walnut, Juglans neotropica

This species tends to be darker and more consistent in color than the North American variety.

It's also known as Nogal.  We actually prefer to call it Tropical Walnut, unless we know the actual country origin.  Many suppliers, if they know the specific country, will use that: Peruvian Walnut, Argentine Walnut, etc.  This is where it's important to know the species for proper identification.  Tabebuia spp is a species most commonly called Ipe.  But guess what? In the flooring industry it's called Brazilian Walnut.  That is not this wood.   Trade names are often misleading.
Walnut Burl, Juglans nigra

The famous walnut burl isn't a separate species, but a burl from the American Black Walnut tree. It's rare but for a burl it's plentiful, and most often sawn into veneer since the yeild is much higher in this form. However, sometimes you can find turning blanks or small pieces through hardwood dealers.