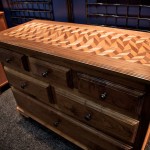 When you stroll through the AWFS (Association of  Wooworking and Furnishings Suppliers) exhibit hall in Las Vegas, you'll find impressive lumber-cutting machines.   Huge things that rival your house.  They can mill 8,000 little furniture parts in under 60 seconds, for over-exaggerated example. I've seen robotic arms use immense suction to lift 3/4″ thick 4×8 sheets of plywood, swing them up overhead, and set them down on a CNC table that, in turn, cuts out a couple hundred little puzzle-like pieces that get knocked together into rocking chairs (that part's done by a human) – whamo! Done. Like it's nobody's business.
Well, seriously, it is nobody's business.  From plywood to parts, you don't need a person to handle the material.  Unbelievable.
It hit me like a ton of bricks: In today's woodwork manufacturing, you don't need to be a woodworker to control the machinery . . . on the contrary, you need to be a computer programmer.  It's like woodworking – ahem, maybe I mean craftsmanship – has nothing to do with it all.
When you walk out of that exhibition hall, and if you're not zombie-eyed and numb by what you've seen inside, you should notice a little kiosk thing in the concourse.  Inside the kiosk are the 50 finalist entries for the 2009 Fresh Wood Student Woodworking Competition.  Step inside.  It's cool.  It's inspiring.  Creativity and innovation come together. You'll be saying to yourself, "Kids made this stuff?  Well okay, the world's in good hands then."