What to Know About Buying Lumber
& Why The Quantity You Order May Need To Change
In short,. you may receive slightly more wood than you order and be charged for it. But don't worry, this is usually no more than a fraction of a board foot, but we do need to charge you for exactly what you receive. Why? Because the amount of wood you buy is largely dependent on the sizes available in the lumber pile. We will always do our best to ship you what you order, though.
For example, if you order 2 board feet of a wood, the board we may need to ship you could be 4/4x6-1/2"x49". That's actually 2.21 board feet - a little more than you ordered - and that's what you would be charged for. We will aim to come as close as possible to the amount you order.

We will ask for your permission to ship your order if the overage is 10% more than the amount you originally ordered. If you order, as an example, 10 board feet of a wood, you won't get 12 or 15 board feet. It may be more like 10.2 or 10.8. Again, the exact amount depends on the sizes that we have on hand at the time you order.

Shipping Costs also will be adjusted to reflect the actual quantity we're shipping you as well.
We we want you to be happy with your order and our service! So if you still have concerns about what you need and what we can do for you, please call to discuss. Due to the limitations of website software, it's best to handle this type of order person-to-person.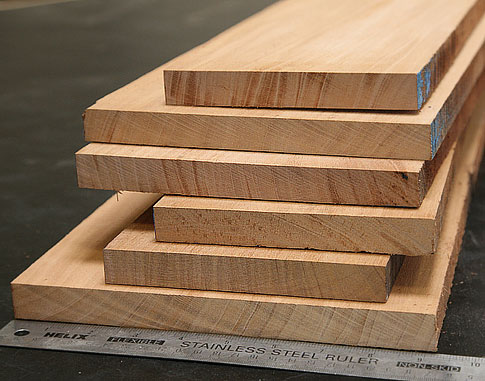 Lumber comes in various widths (usually 4" to 12") and lengths (4' to 8')
Lumber comes in various widths and lengths, which is why sizes and final board footage must fluctuate, and this is why you may need to buy more footage than you realize. The stack of mahogany above shows how lumber comes in many widths, rarely uniform.
Example:
If you ask for 10 boards 6" wide and 72" long, we won't be sending boards that are precisely 6" wide, and depending on the supply may or may not be exactly 72" long. Perhaps they're 74" or 98". As a service, we'll find boards that will yield that size so you can cut them to what you need - what we send will be bigger. And therefore the footage you order will need to be adjusted and billed accordingly.
Due the nature of hardwood lumber, each board in a stack is a different size, with different grain characteristics, etc. Our primary concern is providing you with quality material that you like. We want you to be happy and therefore we want to make sure you get what you need so your project can be a successful one.
Please call if you have questions:
800-423-2450