Cherry 4/4 Project Pack: 20 Board Feet
Cherry 4/4 Project Pack: 20 Board Feet
Ratings Snapshot
Would recommend this product.
On Sale
Ends on November 30, 2015
$191.00
$168.08

/Pack
Volume Pricing
| | |
| --- | --- |
| 1-2 | $168.08 /Pack |
| 3+ | $151.27 /Pack (10% off) |
Tip: mix or match for your best price! Details &raquo
Mix and Match for Volume Pricing
Yes! You can mix and/or match related items to reach the volume prices indicated. Here's how it works:
Lumber: 100 board feet of any mix of woods, or of the same wood
Turning Stock: any 5 bowl blanks, turning squares, or pen blanks
Veneer: any 5 veneer sheets
Craft Packs, Project Packs: any 3 packs
Router Bits: any 5 bits
Sanding Discs: any 5 boxes of 50 discs
You'll see your savings automatically in your shopping cart
Flat Rate U.S. Shipping
$0.00
West of Mississippi River
$20.00
East of Mississippi River
Details »
What to Know about Flat Rate Shipping
In an effort to make buying lumber easy and convenient, we offer these packs with a fixed quanity of lumber. It's your choice of 10, 20 or 100 board feet, and each pack has a flat rate shipping charge if shipped to any location east of the Mississippi River. The charges only apply to the products called Craft Packs, Project Packs and PRO Packs.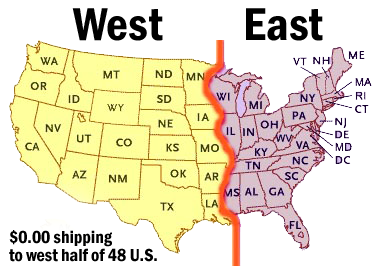 Shipping West of Mississippi River: $0.00
$0.00 for all Craft, Project and PRO packs
HI and AK excluded.
Shipping East of Mississippi River:
$10 per 10 BF Craft Pack
$20 per 20 BF Project Pack
$50 per 100 BF PRO Pack
A 20 board foot Project Pack is a great way to buy some lumber because they're simple and we stand behind them with our 100% satisfaction guarantee. A Project Pack includes a total of 20 board feet of our hand-picked lumber, and you'll get a fantastic assortment of widths (typically between 4'' and 10''), and lengths (between 4' and 8'). Purchase a Project Pack when you need enough wood to make a medium sized project like a coffee table or cabinet. As usual, all the lumber is surfaced on two sides (S2S), and kiln dried.
Thickness
13/16'' thick, surfaced smooth two sides (4/4 S2S)
Widths
4''-10'' variety with rough edges. Straight line ripping on one edge is available as well (see above).
Lengths
4'-8', and each pack contains an assortment
---
What to know about lumber sizes
What if I need specific sizes?
---
What to Know About Lumber Sizes
Lumber Sizes Are Random
Hardwood lumber is different from standardized softwood lumber (such as 1x6 and 2x4 pine). Hardwoods come in various widths and lengths, which is why it may take longer to get your order together, and why you may need to buy more footage than you realize. The stack of mahogany above shows how lumber comes in many widths, rarely uniform.
We can select lumber to meet or exceed your requirements
For example, if you ask for 10 boards 6" wide and 72" long, we probably won't be able to send you boards that are precisely 6" wide or exactly 72" long. Instead, we'll need to:
Send you enough material to yield your request, and
therefore the adjust the footage you order and bill it accordingly.
Due the nature of hardwood lumber, each board in a stack is a different size, with different grain characteristics, etc. Our primary concern is providing you with quality material that you like. We want you to be happy and therefore we want to make sure you get what you need so your project can be a successful one.
What if I need specific sizes?
You'll have to cut your own pieces to size
Hardwood lumber is sold as a bulk raw product, which means that our stacks of lumber have a big variety of sizes most often from 4" up to 12" wide, and 6' to 16' long.
Only some unusual exotic woods are narrower than 4" and under 6' long. This is clearly stated when that's the case, everything else is larger.
We always ship the longest boards possible, and rarely ship boards less than 48" long unless you request shorter. The longest we can ship by UPS is 96" (that's 8').
For custom furniture building, the various widths and lengths often meet the needs and desires of woodworkers. But we do understand that certain projects have some requirements, and we're happy to help you out.
Here's how we can help you get the sizes you need:
We can hand-select material that will yield what you need. Type your needs into the "Selection Request" field right above the Add to Cart button above when you place your order.
We can do some limited custom milling such as planing to a different thickness and straight-line ripping one edge. Please call or email to talk about your needs.
What's in a Project Pack?
Uniform thickness lumber
Planed smooth both sides
Selection of widths and lengths
4-7 boards to equal 20 board feet
Packaged for maximum protection
Simple flat rate shipping!
Lumber Thickness Compared
The thickness of hardwood lumber is expressed as a fraction in quarters of an inch. 4/4 is the most common, and roughly means 1" thick. Here are the various lumber thicknesses compared to one another.
Our blog explains more. Click here.
Cherry

Is a domestic wood from Eastern USA and Canada

What's in the Pack?

Project Packs contain 20 board feet (or slightly more), which tends to be approximately 4 to 7 boards depending on the size
We Have More Cherry Products
Buy With Confidence
The Woodworkers Source Difference
Products On Sale
Cherry Species Info
(Prunus serotina)
Cherry Wood Characteristics
Extremely popular with cabinetmakers. Cherry is easy to work, fine textured, strong and fairly durable. Highly rated in all working properties including wood bending and turning. Becomes darker and richer with age.
Color Range
Reddish brown with a golden luster. Freshly cut cherry is often very pale, but the wood oxidizes to its famously favorable rich brown red in time.
Other Names
Black cherry, Capulin, Cherry, Chisos wild cherry, Choke cherry, Edwards Plateau cherry, Escarpment cherry, Gila choke cherry, Mountain black cherry, New England mahogany, Plum, Rum cherry, Southwestern chokecherry, Whiskey cherry, Wild black cherry
Some Typical Uses
Furniture, cabinets, joinery, intarsia, veneer, interior millwork, small accessories
What's the Tree Like?
Reaches heights of up to 100 feet, about 80 feet average, with a tall trunk of about 24'' in diameter. The Cherry tree grows in Eastern USA, Eastern Canada.
Weight

3.00

lbs /Bd. Ft.

-16.20% lighter than red oak(3.58 /bd. ft.)

Hardness

660

Janka Rating (?)

-48.84% softer than red oak(1290 lbf)

Density

0.54

Specific Gravity (?)

-15.62% less dense than red oak(.64)
Woodworking with Cherry:
General
Workability
Nice
Difficult
---
Wood
Texture
Fine
Coarse
---
Ease of
Finishing
Easy
Difficult
---
Customer Ratings & Reviews
Ratings Snapshot
Would recommend this product.
Would recommend this product.
Never Disappointed
FW
Location: Lititz, PA USA
Date: February 5, 2014
I've bought lumber from Woodworker Source multiple times and I have never been disappointed. Ships quick, always wrapped well and the the boards themselves are better or at least as good as I could pick at a lumber yard.
Cherry 4/4 20 bd. ft. Project Pack
AOS
Location: Winnsboro, Texas Wood
Date: May 27, 2013
Good quality cherry with minimal blemish. Their selection of lumber provided appropriate dimensions for my project. My order was processed and shipped in a timely manner, well wrapped and packaged, and received without damage. Woodworkers Source kept me apprised of the status of my order. i am very pleased with the cherry received, communications, and service.
Good selection
MCJ
Location: Longview, WA USA
Date: April 17, 2013
Very pleased with the size of the boards and grain pattern. Few if any defects. Haven't started my project yet. Will send pics when completed.
Floatcoat
Eric Selby
Location: Meridian, MS USA
Date: March 19, 2013
Love the wood. It is what I was wanting. I will take issue with the finished on two sides. I started working this wood tonight. I was running a piece through the planner and there was a full quarter inch off from the other end. I find this out when the circuit breaker pops. No harm done. Live and learn. I will be a repeat customer.
Luck of the draw?
Mike C
Location: ,
Date: March 18, 2013
I bought 20bf to go with a larger Alder order. Unfortunately the cherry ended up almost indistinguishable from the Alder except for thickness. The color is much lighter than I'm used to and hasn't darkened much despite leaving a piece in the sun for several days. With the sun exposure I also noticed that one face is all sap and the other side is about a quarter sap. I'll have to figure out what I'm going to use on because it's never going to match any of the other cherry I have. Three stars because the service is good.
20BF Cherry Project Pack: Nice material, but too thin to joint & plane
Paul C.
Location: Lockport, NY
Date: February 1, 2013
The quality of the material was excellent, but it comes surfaced to slightly over 3/4" which makes face jointing and planing for flattening impractical. It also appears the material was run through a drum sander, which sounds nice, but there were fairly deep scratch marks that took more work to sand out than boards run through a planer. It would be nice if unsurfaced material was offered.
OK, but...
Steve
Location: Council, ID US
Date: January 4, 2013
Second time I've purchased cherry from Woodworkers Source. First time the lumber was straight, this time 1/2 the boards have some degree of twist to them. Without a good way to plane them down, I'm left with some head scratching as to how to get a straight mirror frame built. Looks like the other 1/2 of my order has straighter lumber though. Pretty wood with no surface blemishes though!
***
Woodworkers Source Responds
Sorry to hear this. Customer service will be in touch to talk about a fix. orders@woodworkerssource.com
My first Cherry 4/4 Project Pack
RCW
Location: Sandia Park, NM Bernalillo
Date: December 5, 2012
This is my first purchase, so I did not know what to expect, but I am pleased with the order. One board has enough bow to be useful in only short pieces, but that seems reasonable given that the others are much straighter. Knowing the results, I would place the order again and recommend Woodworker's Source to others.
4/4 Cherry
DL
Location: Covington, WA
Date: December 5, 2012
Service was prompt and excellent. I ordered 20BF of 4/4 Cherry. I received 4 nice wide boards. 3 of the 4 were beautiful pieces of Cherry, and 1 was so bowed and twisted it was virtually unusable. With that being said, I would buy form Woodworkers Source again, for buying sight unseen this was probably a pretty good deal with the free shipping.
High quality cherry!
Rock
Location: Denver, CO
Date: November 5, 2012
The 20bf cherry package was excellent for my project. The boards were greater than 84" long and at least 7" wide, allowing me maximum flexibility in layout. Further, except for a small end crack, wood was free of defects, exceptionally clear, and nicely figured with minimal warping or cupping, thus almost all is usable. Only complaint has to do with shipping, as UPS had slightly gouged side and top of stack...perhaps better protection on exposed surfaces could be included in packaging?
4/4 Cherry review
LBT
Location: Ocean Isle Beach, NC USA
Date: February 2, 2012
I was very pleased with my order. Fast delivery. All of the boards were wider than I expected. The only reason I gave 4 stars instead of 5 is that there were some very slight grain imperfections (dark streaks). Other wise the order was great.
Great
Jim Curcio
Location: Jefferson , Co usa
Date: January 11, 2012
Love to work with cherry
Great wood
Jlb
Location: Lancaster, Pa USA
Date: December 13, 2011
It was more than I thouhgt it would be, and will buy it again.
first order
Doug
Location: Sparks, NV USA
Date: November 29, 2011
Very nice wood with very little warpage and nothing I could not work around. Thank you for your interest in my order and I will send a picture when the project is done.
Cherry
Glenn
Location: La Grange Park, Il USA
Date: November 29, 2011
Some of the boards warped , big chips and cracks in some ends
Not what I expected
Ken McClure
Location: Pensacola, Fl USA
Date: October 17, 2011
When I think of doing a project I first of all look for consistency of color in the wood. I use clear finish and do not stain cherry becaue the wood is so beautiful in its natural state. The pack I received was about half sapwood (colors all over the spectrum) and about half was a decent shade of cherry. Overall quality of the wood was good in terms of twist and checking but color was not acceptable to me. I would never have picked out the wood in this pack for one project.
***
Woodworkers Source Responds:
Can you send some pictures to us at orders@woodworkerssource.com so we can take a look and get you replacements?
Wow!
Doug King
Location: Federal Way, WA USA
Date: July 27, 2011
A new woodworker, I was reluctant to ask for help picking out wood at the local store, so I decided to take a chance and let these people do the picking. I was pleased with the stock when it arrived, but I didn't fully appreciate its beauty until much later in my project. It's taken me a while to build a round table top. After routing and sanding, I decided the wood was too beautiful to stain. So I am simply applying a clear finish. And I must say, I am stunned with the results. It far exceeds my expectations. I will gladly consider these folks again when my next project comes along.
20 bd nft of cherry
Jim Mateer
Location: North Bend, WA USA
Date: January 27, 2011
good wood, generous planks, good dimensions, no defects.
Quality cherry with little waste.
TerryT
Location: Orlando, FL USA
Date: December 3, 2010
For a sight unseen purchase, I was surprised with the quality. Boards were mostly 5 to 8 inches by 8 feet. Only a couple of knots, one significant 4 inch split in one end, and one 8 inch end section with some bark. Even grain, and virtually no warping. Before using, I am waiting a couple of weeks to be sure the boards from dry Arizona remain stable in humid Florida, but no problems are anticipated. Good packaging and fast service from a company that seems to care.
Cherry 4/4 Project Pack: 20 Board Feet
OH
Location: Vista, CA USA
Date: December 2, 2010
Very nice wood, fast delivery.
excellent selections and service
Jerry
Location: San Diego, CA
Date: November 25, 2010
I was very impressed with the quality of selection of this 20bf of Cherry. I know that quality cannot always be guaranteed but this was exceptional. If I had more storage, I would purchase more.
Great quality, very satisfied
TerryT
Location: Orlando, FL USA
Date: November 24, 2010
Good quality, should produce little waste. All boards over 8 feet, with no small scraps of limited use. My retirement hobby is building traditional wooden clocks. Locally, it is hard to find useful hardwood, except red oak, which I don't personally care for. So I had to order sight unseen on the internet. I was skeptical, but am more than satisfied. Before I begin using these boards, I will to wait a couple of weeks to see how wood from Arizona will acclimate to our humid Florida climate. I don't anticipate a problem.
PRICEY BUT WORTH IT
Al
Location: Alexandria, NH USA
Date: November 16, 2010
Keep up the good work because I am going to buy another Project Pact: 20bf and the best part is Shipping Included.
Beautiful cherry
Eddy C.
Location: Prosper, Tx USA
Date: June 10, 2010
There were five beautiful boards in the package and almost all of it was heartwood. You may find cheaper lumber out there, but none of any better quality.
Excellent Cherry
Norbert Fey
Location: Trafford, Pennsylvania UNITED STATES
Date: May 25, 2010
I received the Project Pack of 20 Board Feet of Cherry. The bundle contained three 6.5" 8 ft boards and one 7.0" 8 ft board. They were all straight and flat. They all contain very nice grain and one board had some great figuring. I am very pleased.
excellent lumber
bs
Location: Birmingham, Al
Date: May 24, 2010
The cherry lumbar was excellent with most pieces 90 to 100% usability, as good as if I had personally picked out the lumber myself
We're Here to Help You Do Your Best Woodworking
Enjoy Our Weekly Newsletter
Subscribe now and get our woodworking tips delivered weekly, plus get a $10 credit:
Woodworking Tips & Advice Blog
Project Plans from WOOD Magazine
Behind The Scenes w/ Instagram
Gallery of Customer Projects
Why Your Lumber Quantity May Need To Change
In short, you may receive slightly more wood than you order and be charged for it. But don't worry, this is usually no more than a fraction of a board foot, but we do need to charge you for exactly what you receive. Why? Because the amount of wood you buy is largely dependent on the sizes available in the lumber pile. We will always do our best to ship you what you order, though.
Here's an Example
If you order 2 board feet of a wood, the board we may need to ship you could be something like 4/4x6-1/2"x49". That's actually 2.21 board feet, and that's what you will be charged for.
Here's What to Know
We will aim to come as close as possible to the board footage you order
We will ask for your permission if the overage is 10% more than the amount you originally ordered
If you order, as an example, 10 board feet of a wood, you won't get 12 or 15 board feet. It may be more like 10.2 or 10.8
Due the nature of hardwood lumber, each board in a stack is a different size, with different grain characteristics
Our primary concern is providing you with quality material that you like
We want to make sure you get what you need so your project can be a successful one
Shipping Costs also will be adjusted to reflect the actual quantity we're shipping you as well.
We we want you to be happy with your order and our service! So if you still have concerns about what you need and what we can do for you, please call to discuss. Due to the limitations of website software, it's best to handle this type of order person-to-person.
Lumber comes in various widths (usually 4" to 12") and lengths (4' to 8')
Lumber comes in various widths and lengths, which is why sizes and final board footage must fluctuate, and this is why you may need to buy more footage than you realize. The stack of mahogany above shows how lumber comes in many widths, rarely uniform.
Doing Business with Us Is Better
Take how you feel about the usual lumberyard and throw it out the window. Doing business with Woodworkers Source is better.
100% Satisfaction Guaranteed
Simply stated, we really want you to be happy with what you buy from us.
That's why we stand behind our lumber, wood, veneer, and turning stock with a 100% satisfaction guarantee. If you're unsatisfied we want to know so we can fix it.
We pay the return shipping if you aren't happy
Yes, that's an awfully expensive proposition -- that's exactly why we work hard to get it right the first time by asking you questions about your projects, being careful with hand selection, and being mindful that you're putting your trust in us to pick out great looking wood that you'll be proud of.
Hand Selected Lumber
There's Only One Way to Do This, and That's By Hand
Your order gets attention by a real person who selects your wood, one piece at a time, and whose goal is to make you happy that you chose to do business with us.
That's the way we've done it since 1998 when we first started shipping hardwood lumber to woodworkers all over the world. We believe that hand selection is our magic ingredient. Because of that, we'll also stand behind your order with a 100% satisfaction guarantee. If you don't like the wood you receive from us, we'll replace it.
See It Before You Buy
We can take photos of any of our lumber and send them to you by email, text, or any method you prefer. We'd like to empower you to make decisions and we can make informed suggestions based on your project and your tastes. Call or email us.
The Woodworkers Source Difference
Friendly Help and Woodworking Advice
The members of our crew are woodworking hobbyists too, so they get to know many of our woods by working with them. When you call or email, you'll talk to a friendly fellow woodworker who understands your concerns and, more importantly, is willing to help.
We Enjoy the Craft of Woodworking
That's why we provide tips and advice through as many channels as possible:
No One Knows it All
Woodworking is a very broad topic, and there's no one who knows it all. But fortunately we have a staff of people who each have knowledge of different specialties. So if the person you're speaking with doesn't know the answer, they'll find someone who does.
What Is a Straight Line Rip?
Make It Easier to Cut to Size on Your Table Saw
All of our lumber is stocked surfaced on two sides - which means the face and back of the boards are good and smooth and the edges are rough sawn. A rough edge is rarely suitable to be guided against a table saw fence. A straight line rip puts a true edge on the board so you can run it against a table saw fence and cut the width you need. A straight line rip is also performed after measuring the board. The rip will remove 1/16" to 1/8" from the width of the board.
So you might be wondering why
Hardwood lumber is primarily a raw product. It's been sawn from a log with big machinery that leaves rough surfaces. We then have the material surfaced (planed) on the two faces (after it's been kiln dried) and we stock it this way - smooth faces, rough edges. There are many benefits to stocking lumber like this, the biggest reason is because we find it to be a decent balance between cost and usefulness to the woodworker. Every aspect of machining adds cost to the wood, so we minimize that as much as possible by only having the lumber planed. It allows you to have a workable and smooth surface and also see the grain and color of the boards. Though every board will have to be jointed or straight-line-ripped eventurally, there's no distinctive advantage to stocking it with the edges already straightened. Plus it would add cost. Where many experienced woodworkers might prefer fully rough lumber, we find that many new and intermediate woodworkers do not have a planer, the critical tool for surfacing lumber. And we're here to serve woodworkers of all skill and experience levels as best we can.
Selection Requests
Lumber Selection Specs Are $1.00 per BF
Use this selection service to tell what you need to yield. We will check our stock to see if we can satisfy the requirement to get you material that will allow you to cut your parts to your sizes. If we can meet your requirement, we will do so. If not, we will contact you to discuss alternatives.
NOTE: The $1.00 is a selection fee for the labor of hand-sorting boards to meet your minimum requirements; it is not a fee that covers cutting boards or providing boards of an exact size. We'll provide material that will yield what you need, you'll do your own final cutting to size. If you have questions, please call 800-423-2450.
4 Things To Know About Size Requests
You may be charged for more wood than you order: We will select material that can yield your specified dimension(s). That means we may have to ship you board(s) that are wider or longer than you request, and therefore they may compute to more footage than you calculated. You will be billed for the actual footage that we ship (More At Bottom). Yes, we always contact you first to discuss and make sure you get what you need and are not surprised by additional charges. It might take longer to get your wood.
Selecting lumber to your specifications may take longer than our standard 3 day turn around: Yes, we always contact you to let you know.
Your wood will need to be cut to final size by you: Please be aware that your specifications ought to reflect what you need to yield out of a board, or what your minimum size is. We will not cut anything to exact dimensions based on sizes you type into the selection box. If you need wood cut to an exact size, please call for a quote 800-423-2450
We we want you to be happy with your order and our service: So if you still have concerns about what you need and what we can do for you, please call to discuss. If you do need pieces cut to specific sizes, please call or email for a quote to do so. We'll be happy to help. Due to the limitations of website software, it's best to handle this type of order person-to-person.
Lumber On Sale! Don't Miss It: