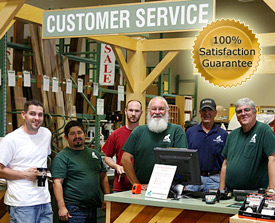 100% Satisfaction
We want you to come back and order from us again and again. That's why we pick out your wood and lumber one piece at a time, pack it professionally, ship it quickly, and stand behind it.
Our guarantee is simple: if you are not happy with the wood you receive, we'll replace it free of charge.
If you have certain requirements for your wood, that's easy! Give us a call to talk about it. We be happy to select material for you and send you digital pictures for your review.
We work hard to make your order right the first time by adhering to quality control standards that sort wood to be largely free of defects within reason. (See this slideshow about how your order is processed)
* * *
To handle a return, refund, shipping damage, or fulfillment mistake:
Contact us within 5 days of receiving your order, and use the guidelines below. Please note that wood products need to be in original condition (not cut, sanded, worked, damaged, etc.) to be accepted for a return or exchange of full value.
Three ways to
contact us:
Mistake made by Woodworkers Source, or damage incurred during shipment
Take digital photos if possible
Call or email a note with your name, order/invoice number, and example photos to returns@woodworkerssource.com
We will replace, refund, or credit the material based on a discussion with you about what would be best for you
If we replace any material, we will pay for the shipping, and will pay to have the original order shipped back to us
No restocking fee, handling charge, or shipping costs – you pay nothing
Note: wood is a product of nature that has intricate color, grain, and texture differences from board to board. Woodworkers Source is not responsible for superficial inconsistencies of wood products.
Shipping is included to anywhere in the 48 U.S. by standard Ground Service. The packs above marked with * incur a flat shipping surchage when shipped to any address east of the Mississippi River.
Return or Exchange
Call or email to notify us of your wishes: 800-423-2450 or returns@woodworkerssource.com
15% restocking fee on merchandise
Refunds and exchanges are handled within 2 business days of receiving the product in our warehouse
Print this form, fill it out, and send the order back with the form to:


Woodworkers Source
Attn: Returns
18115 N. Black Canyon Hwy
Phoenix, AZ 85023