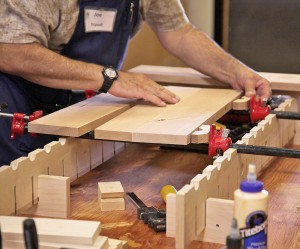 Gluing up boards to make solid cabinet doors and table tops remains a necessary and time-consuming part of woodworking. And many woodworkers out there avoid glue-ups because of the machinery (or exhausting hand work) required to get a newly glued-up solid wood panel nice and flat. It takes a wide planer, wide sander, or unyielding enthusiasm for the joys of hand planing.
But here's a little trick that'll help out: clamp blocks that help keep the aligned and flat while the glue dries.
Make blocks out of solid 3/4″ material that resemble a 4″ long U shape. See below.  Clamp up your panel with bar clamps or pipe clamps as you normally would. Then clamp U blocks so that they bridge over the joints, achieving two things:
Forcing the boards to align perfectly giving you a smooth panel
Keeping the blocks from becoming glued to the workpiece
In the end, you won't need to do nearly as much planing and sanding to get the solid panel flat.
WOOD Magazine has free plans for the clamp blocks at this page if you need a visual:
http://www.woodmagazine.com/woodworking-plans/clamping/easy-to-handle-clamp-blocks/