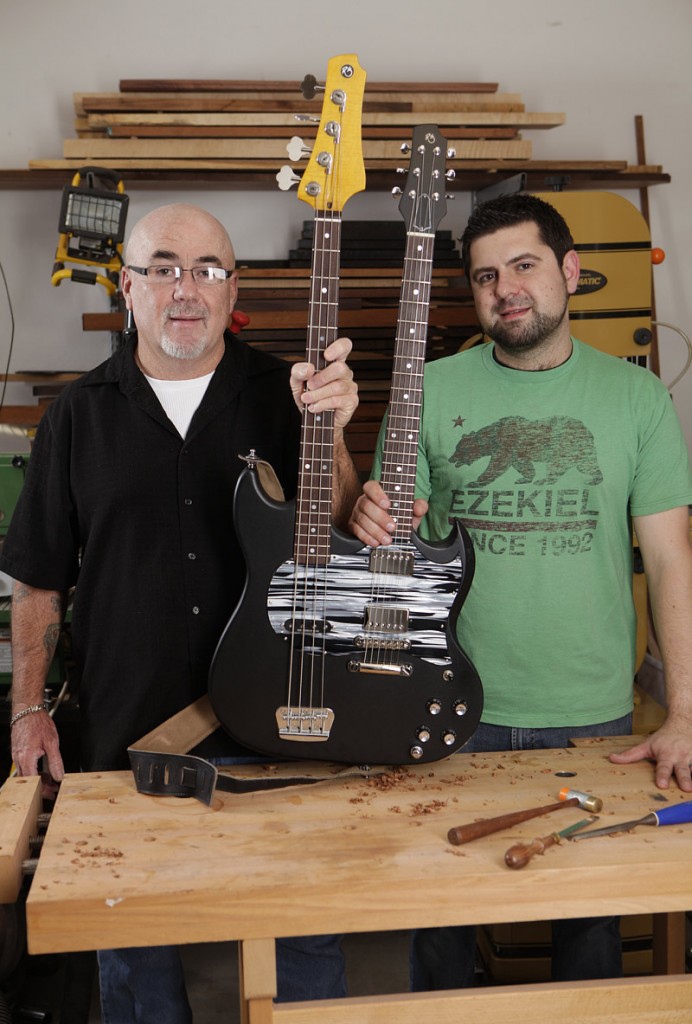 Since there's a world-class luthiery school right in our hometown, Roberto-Venn, we tend to get word when there's a particularly amazing custom guitar being built nearby. For that matter, it's a rare occasion when there's not at least one guitar maker pulling in part time work at one of our stores (and creaming the curly maple piles).
One of those former part timers and Roberto-Venn graduates is Ryan Z, and he recently finished off one incredible ax. It's more like a double ax. Check it out, the photos are below.
Ryan undertook this project for Jack Casey, a sales representative for JET and Powermatic woodworking tools who wanted a fairly wild combination. Ryan used the dimensions of a four-string Fender Musicmaster bass, and a Gibson Exaggerated SG guitar, then combined them into one black lacquered body with two necks. Holding true to specs, tonality requirements, and to keep the weight of the whole beast as low as possible the bass portion is made of alder,  and the guitar portion is Honduras mahogany. It's all visually seamless thanks to the satin black lacquer.
All photos are courtesy of Matt York.