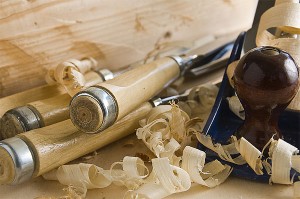 Think of it like a weekend car show, but hand crafted woodwork in place of the hot rods.
That's what we're hosting every Saturday starting September 11, 2010, from 9:00 am to 2:00 pm at all three Woodworkers Source stores.
Arizona's finest woodworkers will be displaying their awesome projects and talking about their craftsmanship — from items as small as turned wood pens and bowls, to projects as large as tables and chairs.
Some items will be for sale (as that's up to each individual woodworker who is displaying work), but everything is worth looking at for general inspiration and enrichment.  Talk to woodworkers, see impressive projects, and enjoy yourself at this craft fair.
It'll be free, fun, relaxing, and interesting with the bonus of free coffee.  Come check it out.
Come to The Crafts & Coffee Craft Fair
Woodworkers: You want to be a part of the fair and display your projects?  Click here for the Guidelines.