In November of 2009, the Arizona Association of Fine Woodworkers assembled in the warehouse at our Phoenix store for their monthly meeting.  A number of them brought their latest finished projects; a bookcase, several turned bowls, fretwork, and more.  They discussed the woods they used, the challenges they encountered, and the techniques they learned. One of the members conducted a demonstration on how to weave and apply chair caning.
Then I presented them with another challenge, a box making contest using a selected package of materials of 3 pieces of exotic Huayruro, 3 pieces of figured walnut blocks, and a 15″x15″ piece of Baltic birch.  Each woodworker could add to the materials, but each of these had to be used in the box somewhere.
On February 19, the entrants turned in their boxes for judging and I selected the top three boxes based on ranking the originality, execution, finish, and artistry of each one from 1 to 5. The winners were: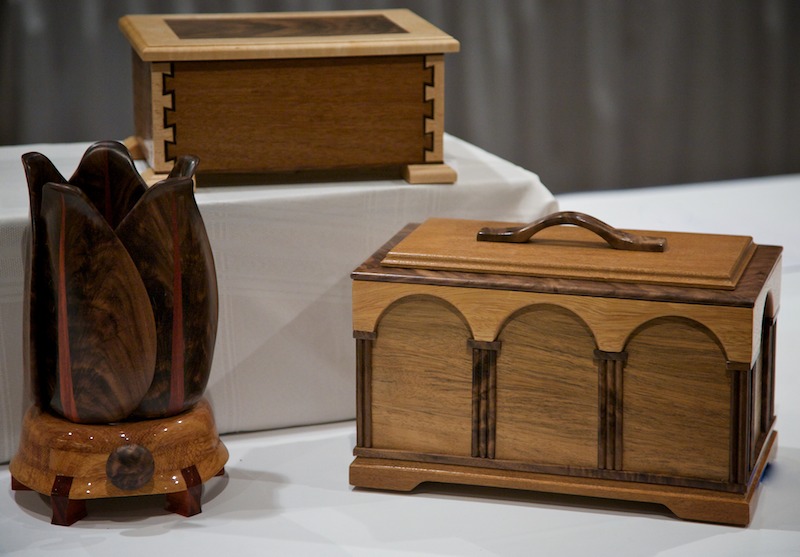 Congratulations to The Winners:

Chris Muse for his flower ($100 gift certificate to Woodworkers Source)
Leroy Davies for his dovetail-jointed box ($50 gift certificate to Woodworkers Source)
Joe Tripodi for his columns & arches decorative box ($20 gift certificate to Woodworkers Source)
As you will see, selecting only 3 winners wasn't easy. These woodworkers pushed their skills and the definition of "box."   Beautiful boxes, all of them.
Gallery of all Boxes Entered in the Box Contest