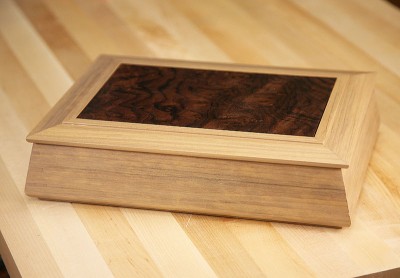 Years ago I wanted to build my first jewelry box. So I tried to buy a little bit of hardwood lumber, which seemed like a simple thing to do. But I was wrong. Here's the story:
In the late 1960s my wife, Betty, and I were newlyweds just out of college. I was a CPA with a large international accounting firm and Betty was a Registered Nurse. In 1970 life started to change with the words, "I'm pregnant" and "It's time to buy a house."
I had no experience with home repair or improvement (or babies) but undertook projects and enjoyed the process. My tool inventory started with a Sears radial arm saw and a Black& Decker ¼" drill. I really moved up when Betty bought me a Black & Decker router, 1 HP, ¼ " collet, edge guide and carrying case. $39.00 for the package.
I made my first table in 1976 using construction lumber and became hooked on building projects. I wanted to try hardwood, Betty and I designed a jewelry box with two drawers and a glass top. I made a sketch and a list of parts, and then headed to the lumberyard.
Problem. The lumberyard didn't sell hardwoods, only construction lumber. I left disappointed and searched for a local hardwood outlet. Eventually I found one down by the railroad tracks, in a seedy, industrial part of town. My only experience was with construction lumber: smooth all sides and dimensioned to specific sizes. So imagine my shock to find piles of rough, random width and length lumber at this hardwood dealer. When I asked a salesman for some help by showing him my list of materials, he took my list, held it in the air and announced to his coworkers, "Look at this! Look at this! This guy's got a list!" I left embarrassed and without the material I needed.
In 1978 I opened the first Woodworkers Source store to serve the retail and custom woodworking communities. The store offered a wider range of woodworking products and a higher level of friendly service than could be found anywhere else in Arizona. Over 35 years later, here we are. Today we have three stores that offer 100 different hardwoods, woodworking tools from the best brands, and a friendly staff that knows woodworking.  Each store has a completely equipped woodworking shop to perform custom cutting and milling services and an education center for live woodworking demonstrations.
Our website Woodworkerssource.com is the most visited of all wood related sites and contains a wealth of useful information with woodworking tips, a hardwood database, and a gallery where you can share your project pictures with other woodworkers.
Our Rosewood Club is a loyalty program that gives discounts, rebates and special offers to our customers. Join it if you haven't already.
Thanks for being a customer and letting us help you succeed in woodworking.
You may read the complete story at www.woodworkerssource.com/history.php
Here are some other projects I've made over the years: