Down in the Amazon, we have a long time connection who keeps us informed about interesting woods and timber projects.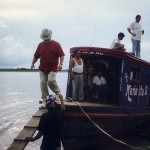 Before you think that sounds like a great job, consider the heat, the bugs, the bureaucracy, the red tape, the "we'll get to your requests mañana" culture shock, the joys of long flights, delayed boats, slow buses, and then the half-dozen or so immunizations via needle you need to get before embarking on an Amazon wood expedition.  Glamorous?  I don't know about that part.
Jim deserves a good pat on the back for this latest find in the Peruvian jungle.
This time around, he's found several unusual, yet very beautiful, types of wood for which we've had a difficult time getting species data (many of these woods are virtually unknown), and (the best part!) all of them are superbly trimmed to uniform sizes, individually wrapped in plastic, and labeled.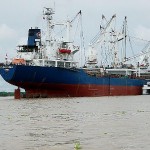 About two years ago, the wood started out in Peru as logs – and before that, you know, those logs were trees.  It was all sawn, dried, milled, wrapped and labeled near Iquitos.
I think this part's really cool.  They loaded it all into a container, which took passage by the mighty Yacu Puma, an ocean going vessel,  down the Amazon river to the Atlantic Ocean where it hung a left.  Northbound!
Some time later, the Yacu Puma arrived in Houston, Texas to little fanfare.  This is where I make some conjecture: I picture the customs agent crunching his eyebrows at our 19 crates of bizarre wood and ordering in pizza for the night. He and his underlings pointed at our container and stamped the paperwork for inspection: INTENSIVE. Probably with big red letters and yellow highlighter.
The inspection held up the final delivery by a couple of weeks, but the wood arrived at our back door in good shape after being hauled in by flatbed trailer.
Check Out This Google Map of the Whole Journey:

View 10,000 Mile Voyage from the Amazon to Woodworkers Source in a larger map
Well, anyway, what does all this mean to you?
Easy, easy, easy — that's what it means.  The perfectly milled-on-all-sides, wrapped and labeled wood that's also beautiful makes it so easy for you to give your project an extra special edge with unique character. Most of these woods are so unusual, that we have little (or no) data about them; so I'll include the botanical names in case you'd like to try to cross reference these woods in a resource of your own.
Did you know . . . .

that buying and using unusual or exotic woods actually brings value to the forests from which they come? Rather than burning these forests to accommodate all aspects of population explosion (like space for living and farming), a reasonable demand for these woods keeps the forests standing. And thanks to selective and sustainable harvesting, we can enjoy and appreciate exotic wood over and over without losing the forests.
Take Chontaquiro [chon-tuh-key-row] (Diplotropis purpureae): a nice chocolatey colored wood with an interlocking grain that shows a rather sporadic pattern.
Or look at Tigre Caspi [tee-gray cas-pee] (Zygia cataractae) with a marble like figure; light tan with dark brown irregular stripes.
For something more subdued, try Huayruro [no idea, sorry] (Ormosia arborea) which is kind of red, kind of brown, but also has a pretty uniform color and coarse texture that seems to hint,  "hey wait till you see me with a finish, pal."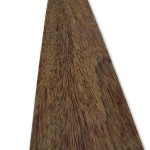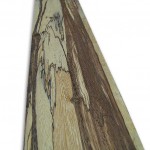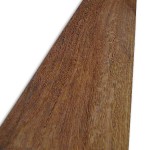 There's also  Tigrillo [tih-gree-oh] (Zygia juruana): sort of tan in color with the consistency of Mahogany and some decent ribbon stripe grain.
We should all know about Bloodwood (Brosimum paraense) the classic deep red wood.  Much of what came in this load has sapwood on one edge or a more golden color. Just like what you see in the picture below.
Dalmata [dahl-ma-ta] (Swartzia arborescens) is also a red color, kind of brick colored, yet with some various dark streaks that should look cool in a finished piece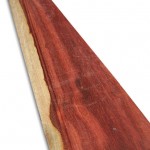 Try these dimensioned woods today!
Try these Bowl Blanks!