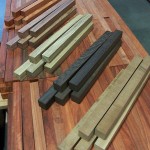 They've practically taken over in here.  Just within the last week, we've had a number of new squares show up demanding some attention. It's like a turning square convention in our warehouse.  Everywhere you turn . . . there they are.
All kinds of woods, too.
All these beautiful perfectly cut exotic woods are stacked, piled, and ready for good service in your woodworking shop.
Even though we call them turning squares, we've been lucky enough to have some crafty woodworkers walk through the doors, see these squares and say, "I can make something cool with those without even using a lathe."
Now just what do you do with a turning square anyway?  If you need some help or inspiration, here are some goodies: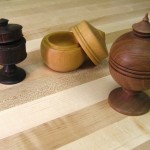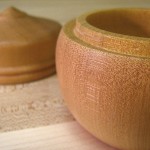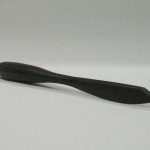 Let's check out the latest offerings and some of the projects people have made with them.
Zebrawood

You'll know exactly why this wood is called what it is when you see these perfectly demarcated lines alternating from dark brown to light tan. Plus, it comes from the

It always looks spectacular with a basic clear finish, and it'll wow everybody and they'll ask, "Is that really wood?"  You betcha.
Bubinga

What a fun wood to work with! It machines so cleanly and looks beautiful with a finish.  So beautiful, in fact, that many folks refer to this wood as African Rosewood.  Hint: this one's also from Africa.

You won't be sorry for chucking this one on your lathe.  Ever.  It's awesome stuff.
Afrormosia

I know, it's a little cumbersome in the name department. You'll forget all about it. This wood is kind of an overlooked one, but I think it's fantastic stuff – the interlocked grain makes cool stripe effect and the color is totally even.  We've got boards of this stuff that are just gigantic, thanks to the big African tree that grows strong a tall with few branches.

Afrormosia has superior weathering qualities – much like teak does.  It's a lighter in color from teak, but beautiful in it's own right.
Iroko

This wood grows in popularity with furniture makers.  Iroko carries a subdued beauty with an even color, intricate grain pattern, and little-to-none showy figure. It's just a straightforward good looking wood that's nice to work.

Also a fine outdoor wood that sometimes goes by the name African Teak. It's worth a spin.
Padauk

One of the most vividly colored exotic woods.  And you can kiss that bright orange goodbye after a few weeks of being exposed to light.  What you'll get, in turn, is a perfect chocolate brown color.  Padauk is also a fun wood to work with — it's lighter and less dense than, say, bubinga, but machines and carves easily.  It's a very popular wood.

Finish it with a clear top coat and it'll look fantastic.
Wenge

Another extraordinary wood with all thanks to wenge's near black color and peculiar grain pattern. This is a wood that goes over with all kinds of woodworkers because it's so unique

Go ahead and give this one a try.  You'll love it.
Sapele

Sort of a mahogany look alike, which means you get a rich reddish color and a solid, great-working wood.  It's durable and beautiful.

A decent wood for turning, and an even better one for furniture making.