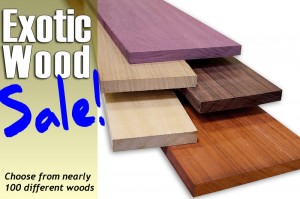 I have a suspicion you may have been eyeballing some exotic, pretty woods but you just weren't sure if you were ready.
Or maybe you thought they were out of your budget.
Well, no longer.
Throughout the month of October, consider yourself out of excuses. We're having our most popular sale of the year.
For one month only, all exotic hardwoods are on sale!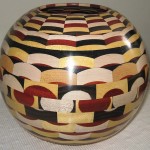 You'd be surprised at the number cool woods that you can get for under eight bucks ($8.00)!  That includes beauties like Jatoba (aka Brazilian Cherry), European Beech, African Padauk, Lyptus, Brazilian Satinwood and many others.
But there's also some popular favorites that reach above $20 that are also a whopping 25% off – like Wenge, Zebrawood, Coracao de Negro, Rosewood.
Did you know that we have no minimum order?  No kidding.  If you want to get just 2 or 3 feet of one of these woods, no problem.  You can even work your way up to an order of 100 board feet total (mix woods if you want), we'll knock off another 10%.
Exotic Hardwood Sale: Oct. 1-31, 2009