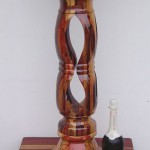 You're going to get a kick out of these turnings.
Some are inside out or exceptionally intricate.  Others look like regular ol' bowls.  But all of them use a special and unusual wood that echos the beauty of the forest from which they came.
Of course, let me not fail to mention these were turned using recycled car parts and broken machetes – the finest tools found in the Peruvian Amazon.
To continue on with Wood Turning in the Backwoods, Jim King sent along a variety of pictures to share with you.  Each one using an unusual wood that you're sure to find stunning.  And the turning concepts and designs aren't all that typical, either.
Here are the first four – I have 16 total, so keep this channel dialed in.
Think you can name any of these woods just from looking at them?  Jim will enlighten us to these woods down below.