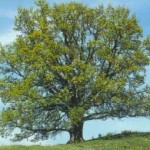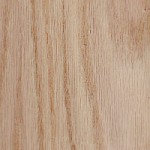 Red Oak is America's favorite cabinet and furniture wood.
Okay, maybe that's a lofty statement.
However, since the founding of our country Red Oak has been used for virtually every conceivable wood application.  And still does.
Floors, cabinetry, furniture, tool handles,  stairs, doors, molding, trim, casings, paneling, plywood, veneer, and on and on.
Red Oak just so happens to be the most abundant hardwood tree in the North American forest.  The wood features decent working properties in nearly all aspects – it's hard, but not severely blunting; it's stable and solid; it accepts all types of stains and dyes, as well as all types of finish; you can rout it, hand plane it, chisel it, scrape it, whatever, and the wood will respond .
Naturally, we use a lot of it in North America for these reasons.
Big Numbers
Check out these production numbers for popular hardwoods for 2006 (this shows the volume of lumber produced for each one):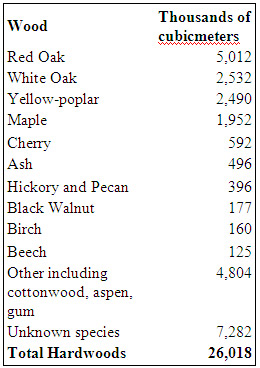 For Red Oak that converts to 2,125,088,000 board feet, nearly 20% of all hardwood produced in the United States. 2 billion board feet of wood will make a lot of stuff.
Worldwide there are as many as 500 species of Oak with at least 60 species growing in the US. Based on microanatomy these are separated into three groups: Live Oak, Red Oak and White Oak. The main commercial species in the Red Oak group is Quercus rubra but wood from other species of the red oak group may be included in the lumber pile. The lumber is nearly identical and the trade accepts all of these species as Red Oak.
The heartwood ranges from a light tan to a muted pink. The lumber has a very distinctive, course grain with large open pores. It works exceptionally well but because of the open pores the grain must be filled to get a smooth finish. When quarter sawn there is a nice ray fleck but it is smaller and more subtle than the fleck in White Oak. The wood has high tannin content and may irritate the skin of some folks.
Because of the large quantity produced Red Oak can be ordered with special selections for cut, grain, or color. Plywood and veneer are readily available in anumber of specifications
Attractive, hard, strong, readily available and reasonably priced Red Oak might be just the wood for your next project. For more information check out our product listing.
Here is a nice kitchen table and chairs made of red oak, you can find other examples in our Project Gallery, too: