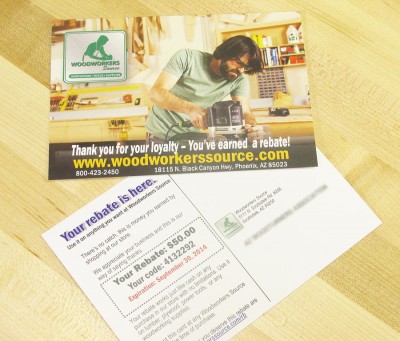 Every quarter, we issue rebate credits in multiples of $50  and/or free shipping coupons to customers who have accumulated $1000 (or more) in purchases with us. We issue these four times throughout the year: early in January, April, July, and October.
Local customers: Getting a rebate credit is just one of the several reasons to sign up for our Rosewood Club, or, if you have a woodworking business, set up a commercial account with us.  If you are set up with either one, that allows us to issue you a rebate as well as offer you woodworking seminars and exclusive discounts. More info >>>
Mail order / internet customers: When you accumulate $1000 in purchases with us within a calendar year, we'll give you a free shipping coupon to use on a future order.  More info >>>
It's not very unusual to get  a rebate credit or free shipping coupon from us.  In fact, 730 people or companies received one or the other this year so far. This program is our way of thanking customers for trusting us to be their source for wood.