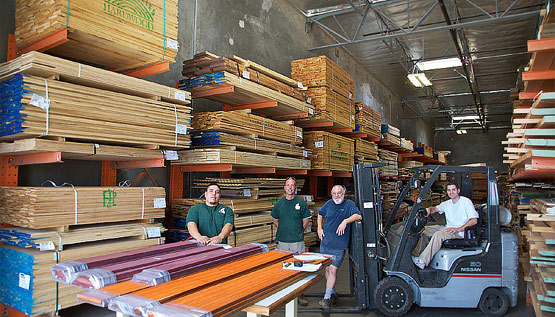 If it's one thing every internet shopper enjoys, it's free shipping. However, woodworkers aren't your typical internet shoppers.  They're artisans and craftsmen first, which means the idea of free shipping often comes second to trusting their lumber supplier to send only the choicest, most respectable quality they can possibly find.  Well, to be blunt, it's quality that we propose to deliver and then back it up with a 100% guarantee.
That must be partly why we've been around so long, shipping wood to woodworkers all over the world. You could say we've checked that off the to-do list.  So what now?
It must be time to shift into a new gear and unveil free shipping at Woodworkers Source.
Here's how this works:
At the end of every quarter throughout the year, we pour over the list of mail order customers who have placed orders.
Anyone who's accumulated $1000 in purchases since the beginning of the year will receive a voucher for free shipping on their next order.
We'll ship that next order anywhere for free in the 48 U.S. by ground service, no matter how large or small. Free shipping.
Of course $1000 is no small amount of money, but any woodworker knows that you can easily shell out that much into as little as two projects. So we'd like to reward those who trust us as their wood source with this free shipping program. The $1000 threshold matches up with our local Rosewood Club program that's designed for local customers who shop at our stores; this way, everyone (local or mail order) is covered with a reward for reaching $1000 in purchases with us.
Free shipping coupons/vouchers are distributed during the first week of each new quarter: January, April, July, and October.
Your free shipping coupon comes in the mail  and e-mail during the first week of the new quarter after you've accumulated your purchases
It's good on any order of any size
Coupons are not distributed instantly, but only at the beginning of each quarter
If you ever want to know how close you are to earning a free shipping voucher, just call 800-423-2450 or or email us at cust.support@woodworkerssource.com
For complete details, rules and FAQs, please click here >>>
Tags: customer service, Deals, help
This entry was posted on Wednesday, July 13th, 2011 at 6:31 pm and is filed under
Featured Specials
,
Tips and Tricks
. You can follow any responses to this entry through the
RSS 2.0
feed. Both comments and pings are currently closed.