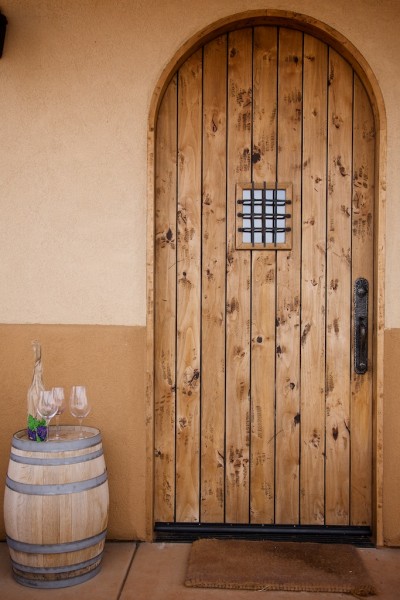 When you're building a project out of a knotty or rustic wood like alder, pine, mesquite or hickory, you can give those boards a fantastic boost in stability and appearance by filling the cracks with wood filler, glue mixed with sawdust or epoxy. Probably other substances, too.
For this demonstration, we're working with clear two-part liquid epoxy, which is easy enough to buy at your nearest hardware store. And the sample boards you see in these pictures are knotty alder. But, as stated above, the process works just fine in other woods with knots or splits.
We're also tinting this epoxy with black pigment by Mixol. But that's optional. You could leave the epoxy clear, mix it with saw dust, mix it with powdered stone like turquoise, and so on. The process is more or less the same.
Materials needed:
Two-part liquid expoxy
Black tint or pigment
Small disposable mixing cup
Stir sticks or disposable spoons
Needle or pin
Latex gloves
Blue masking tape
Denatured alcohol
Black felt tip marker
The Process:
First, some tips. It's best to do this process before your project is assembled and before it's sanded, stained or finished. You'll do those things after filling. It's perfectly fine to stain and apply finish on top of cured epoxy. Sometimes you'll want to fill knots or cracks before you cut your boards to size if they're severe and would pose a safety hazard otherwise.
Mix small batches rather than large ones, even if you have a lot of knots to fill. That's because once epoxy is mixed, it only gives you about 5 minutes of working time before it starts to harden.
Step 1

If the knots or cracks go all the way through your board, flip it over and cover the backside of the void with masking tape. This helps prevent a nasty mess leaking through, or worse your board getting glued to your workbench.

Step 2

In a small disposable mixing cup, mix your epoxy. The mix is usually 1:1 hardener to resin, but check the instructions on your epoxy.

As soon as the two parts come in contact with one another, you've initiated the hardening reaction. You have about 5 minutes before the epoxy is too stiff to manipulate into the cracks.

Step 3

Add a drop or two of tint to your epoxy.

This step is optional. You could leave the epoxy clear, or mix in other substances like saw dust or powdered stone.

Step 4

A little bit of Mixol pigment goes a long, long way so do not use too much. Here we've used just a drop. Stir the mixture, and get to work.

Step 5

Using a spoon or stick, work the mixture into your knot or crack. Then allow it to dry.

Tip: If bubbles form, pierce them with a small pin or needle. 

Tip: work quickly, and don't mix too much epoxy at once because you only have about 5 minutes of working time before the epoxy sets up.

Step 6

Once the epoxy dries, you'll probably notice that large cracks and voids aren't totally filled. No problem, though. Mix up another small batch and hit it again. This is common for these larger holes and voids.

 

Step 7

Once the epoxy is dry and well filled, leveling it out is swift work with a block plane. You could also use a chisel, but a plane is better. Sanding is risky because there's a good chance you'll create a noticeable divot to the outside of your filled knot. A plane is faster and gives you a good, level surface anyway – much better than sanding.

Use your black felt tip marker if your fill job still shows some white specs in the epoxy.

From here, you assemble, sand, stain and finish your project as you normally would.

 

Step 8

Clean up.

If epoxy has leaked onto your workbench, denatured alcohol is the best solution. Soak a shop towel or rag in denatured alcohol and rub the epoxy. It'll come up quickly.

If you got epoxy on your skin, use vinegar to clean it off.