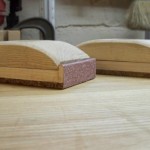 When your wife asks, "Can I get your help with something?" you now have a good excuse when you answer, "Uh, not right now sugar."
Because you're building something important. Something that demands your utmost attention and focus. You don't want to get this one wrong.
Pay close attention and set to work making your own heirloom quality sanding block: at The Bespoke Woodworker Blog.
You can thank me later.