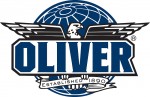 If you're registered for our latest woodworking contest, I'd like to report that this staunch 14″ bandsaw from Oliver Machinery is the first place prize.
This baby has a 12″ resawing capacity, and her 1.5 horses run on 110 volts of juice. It's perfect for the home shop if you want to get serious about resawing. It's street price is $1,499, and it's a very well reviewed tool, making this the most exciting prize we've been able to offer in our woodworking contests.
In short, the first place winner of the contest gets to take this home.
Get more info about the woodworking contest here, and be sure to register if you want to enter. The project theme is wall hangings, and it comes due on November 7 – so I hope you're hard at work building something incredible.
The competition is sure to be stiff. We have nearly 100 people registered already, and it's going to be limited to 150 entries.
I have numerous other prizes from our esteemed vendors, which I'll announce shortly here.
Save the Date: November 14, 2015
Awards ceremony will take place at our Phoenix, AZ location (I-17 and Bell Road). We'll have some hors d'oeuvres and beverages, and provide a pleasant space for a public show of all the pieces entered in the contest.